APRIL 4, 2002
Sauber could lose Massa in 2003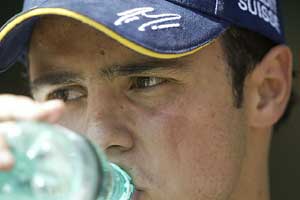 © The Cahier Archive
THERE was no big surprise when Peter Sauber let slip that Felipe Massa could leave Sauber and go to Ferrari next year - if the Italian team decides to take up an option it has on the young Brazilian. But there is no reason why Rubens Barrichello would leave his current job as it will be hard for him to find a drive as competitive elsewhere in F1. Ferrari knows that disrupting the status quo is probably not a good idea and will thus try to keep Barrichello if it is at all possible.
Sauber lost Kimi Raikkonen last year to McLaren but the enormous pay-off that came as a result has helped Sauber to fund the construction of its new windtunnel program.
Massa has not endeared himself to the Sauber management by talking about where he would go after Sauber almost as soon as he signed for the Swiss team.
The only worry for Peter Sauber is that with Massa under option to Ferrari and Nick Heidfeld still having an option which could see him joining McLaren-Mercedes Benz in 2003, there could be a situation in which the team could end up with two new drivers in 2003 - which is not a good idea. This probably explains the team's desire to find a test driver as soon as possible so that there will be a driver trained up and ready to go.
Other stories for APRIL 4, 2002