JULY 7, 2013
Russian banker Rotenberg to rescue Sauber?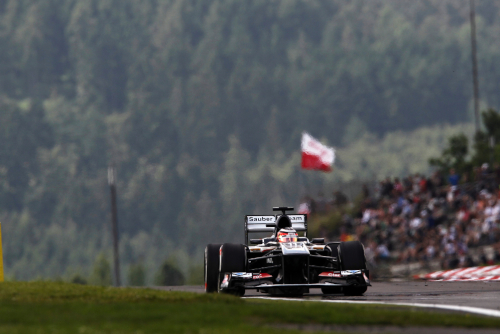 © Active Pictures
Sauber could have an all-new driver lineup next year, as rumours of a radical shakeup for the struggling Swiss team gain speed.
Nico Hulkenberg, reportedly not paid by the Hinwil based team since May, has already confirmed at the Nurburgring that boss Monisha Kaltenborn is working to pull Sauber out of a financial crisis.
Nicolas Todt - a GP2 team chief, prominent F1 driver manager and son of FIA president Jean Todt - has been linked with a buyout, as has Chelsea football club's Russian billionaire owner Roman Abramovich.
"I've heard the rumours," said Frenchman Todt, "and there's nothing to it."
Nonetheless, the rumours continue to flow.
Bild newspaper said German Hulkenberg has "already made contact" with Lotus, whose Romain Grosjean is underperforming, while Kimi Raikkonen is linked with a high-profile 2014 switch to Red Bull.
Sauber team boss Kaltenborn played down reports Hulkenberg has already terminated his breached contract.
"I will soon announce a new sponsor," she said.
The German-language Bild and Speed Week report that one of Russia's wealthiest men, Boris Rotenberg, is linked with the Sauber rescue.
Rotenberg, who co-owns the SMP bank with his brother, reportedly has close ties to Russian president Vladimir Putin.
It is believed Carlos Slim's Telmex has ruled out buying Sauber, which - given the Mexican company's expected move to McLaren - could be bad news for 2013 team driver Esteban Gutierrez.
Speed Week correspondent Rob La Salle speculated that Sauber's 2014 lineup could see Russian Vitaly Petrov return to F1, alongside the Todt-managed Felipe Massa or Jules Bianchi.
(GMM)
Other stories for JULY 7, 2013