JULY 7, 2012
Red-flagging Q2 the right call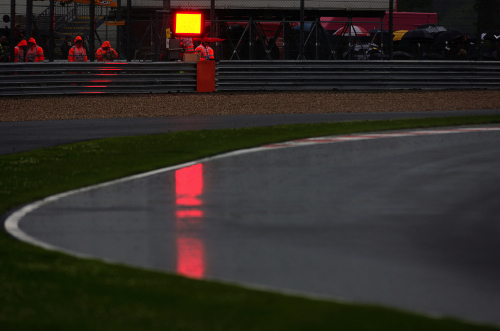 © The Cahier Archive
Despite some controversy about the decision to red-flag Q2 with six minutes remaining, most teams and drivers were in agreement with the course of action taken by FIA race director Charlie Whiting.
Some TV pundits, including the BBC's Gary Anderson and Eddie Jordan, believed that the session should have run its course, meaning that those teams which made incorrect tyre choices at the beginning of the session (Ferrari and Williams) would have paid the penalty, rather than getting a second chance on a drier track.
McLaren's Martin Whitmarsh, whose driver Lewis Hamilton was among the quickest at the time of the red flag, said: "We'd been quick on the wet tyres and okay on dry tyres in the morning, but the intermediates were a bit of a challenge for us. But I think you've got to respect the fact that Charlie's got a difficult job.
"If he hears drivers talking in some distress about the conditions, then I think he's obliged to do something. I think some cars did go out on the wrong tyres and benefited from that delay, but he has a responsibility to really monitor the safety of the situation.
"It's a tough call and I can imagine he has TV companies breathing down his neck. It would have been kind of neat for us if he'd let it run a few more minutes but I think he had to do what he did."
Jenson Button backed up his team principal's view, despite not making it as far as Q2.
"It was 100% the right decision," Button said. "It was like a lake out there. I've been in the cockpit, I felt it and I could see on TV that it was too wet. It's nothing about the skill of the driver or whether we've got big enough balls, it's whether you are actually driving the car anymore. And in that situation you're not - because it's not on the road, it's floating."
A number of drivers commented that the spray and drainage were worse than they have experienced at Silverstone in the past, which could have implications for the race.
"You could see that in the GP2 race a bit later it hadn't really rained that much more but they had five or six laps behind the Safety Car," Button added. "In race conditions it's a lot worse than driving round on your own. One because of the spray, so you can't see where you're going, and two, the spray hurts you because you can't see where the puddles are on the circuit.
"And, with all the rain we've had, the water doesn't soak into the ground, so puddles and rivers seem to form quickly."
With more rain forecast for race day, Silverstone seems set to be a mixed conditions race once again.
Other stories for JULY 7, 2012