British GP 2012
JULY 7, 2012
Qualifying Report - Alonso snatches Silverstone pole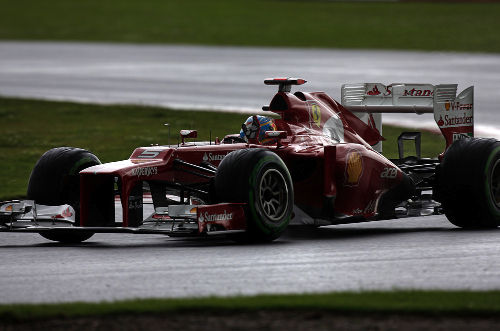 © The Cahier Archive
BY TONY DODGINS
Fernando Alonso took a fine pole position for the British Grand Prix in a rain-interrupted qualifying session that saw home hero Jenson Button eliminated in Q1.
Button fell at the first hurdle when he could not get enough heat into the Pirelli intermediate front tyres and after pitting for a fresh set. He looked to be safely in but encountered a yellow flag in sector three after Timo Glock spun his Marussia.
Extreme wet tyres was the correct choice for Q2 but Ferrari and Williams ventured out on intermediates at the start of the session, when conditions were as good as they would be prior to the session being red-flagged after Alonso, Massa and Michael Schumacher all aquaplaned off the circuit.
At that point, Ferrari and Williams looked like paying for their tyre choice but after a lengthy delay and much sweeping of standing water, the track was quicker when the session resumed for the remaining six minutes, and they were off the hook.
This time it was Romain Grosjean's Lotus that fell foul of the conditions and spun, the Frenchman unable to take part in Q3 despite fifth quickest Q2 time.
For Q3, Hamilton, Raikkonen and Schumacher all left the pits on extreme wets in what was a tricky tyre choice. At first, the sector times were on par but it was obvious that intermediates were going to be the tyres of choice by the end of the session. All three pitted to change.
From that point on it was all about being well positioned to take full advantage as the circuit got quicker and quicker until it began raining more heavily again in the dying seconds.
It looked as if Mark Webber (1:51.793) had done enough to secure his second successive Silverstone pole but an 11th hour effort from Alonso (1:51.746) pipped him by five hundredths of a second.
"You had to be calm in difficult moments," Alonso smiled, after taking Ferrari's first pole position since Singapore 2010, 31 races ago.
"Putting a lap together in those conditions was difficult. Nearly two years wait for a pole is a long time for Ferrari. But I think it's one of the less important ones. Everything will mix up after a few laps tomorrow but at least it's good for the visibility! We maybe felt more confident in dry conditions because the car felt good in high speed corners in FP3 and we were happy with the balance."
There was a degree of controversy about the decision to red flag Q2, BBC pundits Eddie Jordan and Gary Anderson both of the view that the session should have run its course and that those who made wrong tyre choices should have paid the penalty.
Alonso, predictably, didn't quite see it like that.
"It was impossible to run in those conditions and it was a good decision," he said, "as was waiting until the circuit was in a good position to run when we resumed. The first priority is safety."
Webber seemed happy enough with his second place: "It was a tight session and you don't know how you're going," he explained. "Ultimately we put a pretty good lap together and our strategy was good. Silverstone has been a good track for me since '95, when I won my first Formula Ford race here."
Schumacher, meanwhile, admitted that he would not be too unhappy to see more rain tomorrow: "I think we look reasonable in wet conditions on intermediates or heavy wets, so rain is welcome tomorrow. Q2 was difficult. I had the wrong visor, without any anti-fogging, and it didn't help to find myself sideways in Becketts! I think Q2 was on the limit, if not slightly over it.
Sebastian Vettel starts the race fourth (1:52.199), ahead of Felipe Massa's Ferrari (1:53.065), Kimi Raikkonen's Lotus (1:53.290), Pastor Maldonado's Williams (1:53.539), Lewis Hamilton's McLaren (1:53.543), Nico Hulkenberg's Force India (1:54.382), and Grosjean.