APRIL 3, 2002
Rebuilding Jaguar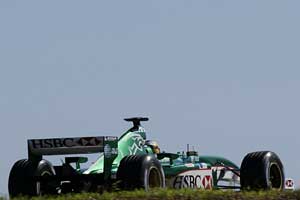 © The Cahier Archive
THERE have been a lot of rumors in recent days about the engineers who will be employed at Jaguar Racing in the future. The team is trying to develop the Jaguar R3 but team insiders are basically being forced to admit that by the time the problems are solved it will be too late to do much catching up with rival teams as most of them are developing their cars at great speed. As the season progresses, and budgets are spent, one or two of the teams may begin to fall behind - as we saw last season with Arrows.
And so while the current team of engineers are working on the troublesome R3, the team direction is looking at putting together the best possible team for next year. This needs to be in place as quickly as possible so that research and development programs - mainly aerodynamic work - can begin. The hiring of Ben Agathangelou from Renault is a start and Jaguar says that there will be another new aerodynamicist announced in the next few days.
When it comes to technical directorship, the team must decide what to do. The role is nominally with Gunther Steiner but much of the technical management is believed to be being done by chief designer John Russell. One of the major problems last winter was a lack of coordination between the various departments which meant that production schedules were confused and parts did not always fit together as they were supposed to do.
The job of being technical director could be handed to someone like Russell although there will no doubt be some pressure for the team to sign up a "star" name such as Alan Jenkins or John Barnard. There are some who would argue that neither men are right for the job and we have heard suggestions that Malcolm Oastler might find a position with Jaguar.
These are decisions which will make or break the team because it is hard to imagine Jaguar bosses (let alone the Ford Motor Company) will put up with another year of failure.
Both Jaguar drivers have their contracts running out at the end of the current season and it is thought likely that the team will take the sensible step of hiring cheap young drivers (or cheap older ones) rather than spending a lot of money on a "star" name like Eddie Irvine. One name which must be in the picture is that of Jos Verstappen, out of work since being dumped by Arrows. Sauber was keen to have him as a test driver but the Dutchman could not fit in the car.
Other stories for APRIL 3, 2002