MAY 1, 2023
No team orders as F1 title battle heats up
A lack of wheel-to-wheel action in Sunday's Azerbaijan GP aside, the world championship battle is at least interesting.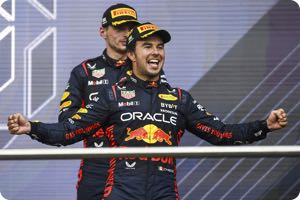 A lack of wheel-to-wheel action in Sunday's Azerbaijan GP aside, the world championship battle is at least interesting.
Sergio Perez is now just 6 points behind Red Bull teammate Max Verstappen following the Mexican's sprint race-plus-grand prix double victory.
"As long as it doesn't harm the team, they can compete against each other," Red Bull team boss Christian Horner said.
Some, however, don't believe it.
"Horner's words on the radio to Max after the race didn't sound great to the Mexican fans," former Red Bull driver Robert Doornbos told Ziggo Sport.
"He hinted that it was about the luck of the safety car."
Indeed, Dutchman Verstappen urged Red Bull to "review" the timing of Perez and his pitstops around the deployment of the safety car.
Horner said the team simply didn't realise the safety car would be deployed for Nyck de Vries' crash.
"All four wheels were on the car, he hadn't hit the barrier and the engine was running," he said. "It looked like he was going to reverse and keep going."
Verstappen therefore lost time because of the safety car deployment, but was given freedom to keep pushing Perez from behind.
"Checo asked if he could slow down," said Dr Helmut Marko, "but Max would have had to do that too so we said no.
"We let them drive at full speed, so the last laps was what we had in terms of speed."
That gives hope to Red Bull's rivals, given that Ferrari's Charles Leclerc and the Aston Martin of Fernando Alonso were just 20 seconds behind at the chequer.
Pole sitter Leclerc, however, insisted: "They are in another league when it comes to the race.
"We've maybe got a little bit closer, but we're still very far behind in race pace at least, and I also think that we are behind Aston Martin in terms of race pace."
And so for now, it appears to be a head-to-head for the title between Verstappen and Perez.
"Both of our drivers are great and they have their strengths," Red Bull's Marko said. "Sergio on city circuits and Max on conventional tracks."
Back-to-back title winner Verstappen insists he is up for the fight.
"We will continue fighting for the rest of the season but that's normal, we have done that our whole life," he said.
According to Ralf Schumacher, however, there are rumours that Verstappen is actually not happy with Perez in the sister garage and would prefer if Daniel Ricciardo replaces him for 2024.
"From my point of view it's clear that the Verstappen side wants a new teammate," he told Sky Deutschland. "I'm hearing these rumours everywhere.
"I see it as a problem that Perez knows his time at Red Bull will end. So he's fighting so hard for his chance to win and have a say in the title.
"He's thinking 'who knows when I'll get another chance'. You can see from Lewis Hamilton how fast it can go away," Schumacher added.
"That's why Sergio is now becoming more selfish and as far as selfishness goes, Max Verstappen can't complain. But being his teammate is certainly not easy - I certainly wouldn't have wanted to be."
Red Bull, however, seems reluctant to intervene in the head-to-head - for now.
"We are in a fortunate situation because Alonso, Leclerc and the two Mercedes drivers are fighting for third place," Dr Helmut Marko told ORF.
"There's a constant back and forth between them, which is why our lead is quite good. But there are still 19 races to go and we're not thinking of a team order."
(GMM)