MAY 1, 2023
Cars to blame for boring Baku GP
Sunday's main feature Azerbaijan GP was "not a thriller".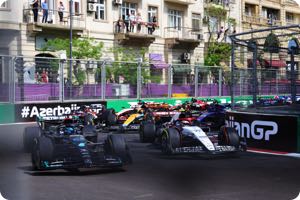 Sunday's main feature Azerbaijan GP was "not a thriller".
That was the summation of Mercedes boss Toto Wolff after Sergio Perez led home yet another Red Bull 1-2.
Grand Prix Drivers' Association director George Russell flagged the likely difficulty of overtaking at Baku earlier in the weekend when he chastised the FIA for shortening the DRS zone.
Russell's Mercedes boss Toto Wolff told ORF after Sunday's Baku race: "Overtaking has always been good in previous years, but we probably shortened the DRS zone too much.
"We've learned now for next year."
However, the drivers deny that DRS is the only problem.
"The cars this year are generating a bit more downforce and so the car behind struggles a little bit more to follow," said Red Bull's Perez.
Verstappen agreed: "I also think because of the weight of the cars we have nowadays, in the low speed it's a bit harder to follow too.
"As soon as you have a tiny moment with that weight, it becomes a bigger slide, it's harder on the tyres so you overheat the tyres more," he explained.
"I remember in 2015 or '16, you could take a few different lines, run a kerb because the cars were a lot softer than what we run now. But it's really, really hard nowadays because the cars just don't allow it."
Russian F1 commentator Alexey Popov agrees that the "new generation" cars of 2022 and 2023 are actually proving difficult to race at certain circuits.
"The argument is 'change the track, don't change the track' but the problem is that these cars were designed to have more racing - but there isn't more racing," he said.
"From my point of view, it's urgent to stop the teams from improving them even more. Every time they improve, all the air that they tried to prevent is starting to get more and more.
"And this is the result - very little racing," Popov added.
(GMM)