MARCH 30, 2023
No chance Perez can beat Verstappen
Sergio Perez has "no chance" of beating Max Verstappen to the 2023 drivers' title.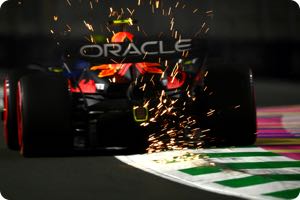 Sergio Perez has "no chance" of beating Max Verstappen to the 2023 drivers' title.
That is the view of former F1 driver Christian Danner, who said Verstappen's fight-back drive in Jeddah after a qualifying fault showed how the 25-year-old has developed as a back-to-back champion.
"For the first few laps I didn't even notice him," Danner told Servus TV. "But he was overtaking cars one after the other.
"There was no controversy, no sticky situations, just very smart, very calm. You can see how he's matured and what an incredibly superior driver he is now."
Danner also said Jeddah demonstrated how "Max can always adapt to the circumstances" - like the way he battled through a stomach virus in Saudi Arabia.
"It felt like I was missing a lung," the Dutch driver admitted in Melbourne on Thursday.
"When I jumped in the car in FP1, after just one performance lap I had to recover for two laps to be able to breathe normally again."
Verstappen said he will use the calendar gap created by the cancellation of the Chinese GP to fully recover - while his Red Bull teammate Sergio Perez will use it to press forward his own ambitions to beat the sister car to the title.
"Of course Perez believes that he can beat Verstappen," said Danner. "But I have to say as an outsider that he doesn't stand a chance."
Mexican Perez, however, said in Melbourne on Thursday that Red Bull is allowing the duo to fight.
"In general, in my opinion, everything is going well, and the media simply blows up the topic of my relationship with Max," he said.
But former F1 driver Anthony Davidson, agrees that those hoping Red Bull's dominance this year will at least be spiced up by an in-team title fight will be disappointed.
"I think a title fight between them is too much to hope for," he is quoted by the Evening Standard.
Therefore, with Ferrari and Mercedes struggling and Aston Martin also out of reach of the energy drink-owned team, F1 could be facing a questionable spectacle for the remainder of the very long 2023 calendar.
"It seems that nobody comes close to Red Bull this year," Alan Permane, a boss at Alpine, is quoted by Diario Sport.
"It seems like they have a second per lap advantage, honestly."
(GMM)