Australian GP 2023
MARCH 30, 2023
Thursday Press Conference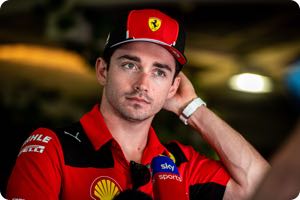 DRIVER GROUP 1 – Charles LECLERC (Ferrari), Oscar PIASTRI (McLaren), Zhou GUANYU (Alfa Romeo), Fernando ALONSO (Aston Martin), Max VERSTAPPEN (Red Bull)
Q: I think we should start with the hometown hero, Oscar Piastri. And I mean that in the truest sense, because you grew up just 15 minutes from where we're sitting now. How special is this weekend for you?
Oscar PIASTRI: Yeah, very, very special, obviously. To race in my home country and also, like you said, hometown as well. I played Aussie Rules footy and cricket on some of the ovals that are now the paddock, so yeah, very special to be at home this weekend.
Q: And is it true that this is your first car race in Australia?
Piastri: It is. Yeah. So, the last time I raced in Australia, I was still in go-karts. I think it was seven years ago now. So yeah, nice to get out on a racetrack in Oz.
Q: And have you been to Albert Park before, for the race?
Piastri: Yeah, I was here last year as a reserve driver, and I was here, I think, 2015. I was a grid-kid, actually for Dany Kvyat, so I was holding Dany Kvyat's flag, and he broke down on the lap-to-grid, so I never actually got to see him. But yeah, it's pretty special to have someone holding my flag this time but hopefully I have better luck.
Q: Let's look at performance. You made it into Q3 and completed your first race distance in Saudi a couple of weeks ago. What were the biggest lessons you learned in Jeddah?
Piastri: I think qualifying especially gave me a lot of confidence in the way that we're working is the right way. I think I didn't really change that much from Bahrain, but the results in Qualifying were much different, obviously getting to Q3 this time. So yeah, it was a nice confidence boost. Sunday, obviously nice to see the end, at least. But yeah, I think on the first lap I probably could have done a few things differently and maybe kept myself out of trouble a bit better, but I think the rest of the race, it's nice to get a race distance under my belt at least. And definitely some learning and getting rid of some of the rust still.
Q: Record crowd coming this weekend, 140,000 people coming on Sunday. They're going to be cheering you on, many of them. What can they expect from you and McLaren?
Piastri: We'll try our best obviously. I think compared to the previous two tracks here should be more like Saudi, I hope. Tarmac's quite similar. The layout is a bit more similar to Saudi compared to Bahrain. So, hopefully, that is good for us. But yeah, I think, you know, Saudi we showed we can get into Q3 and fight for the back-end of points on our good days. So hopefully, we can just have a clean race and my front wing doesn't wipe out Lando, this time. And we'll see what we can do.
Q: Charles, we'll come to you next. A year ago, you dominated this race, winning by 20 seconds. It was a great moment for you and for the team. Can we start just by reflecting on 12 months ago?
Charles LECLERC: Yeah, good memories. But we are already looking… for this year, we are not coming into this race in the same situation as we were last year, I think. Clearly, our performance is not as good as last year. But we are working massively to try and come back at the front. Last year's are good memories, as we can see on the images now. Everybody was really happy. But again, we are fully motivated to be back in the front, we know where we need to work on. I don't think there will be any miracles for this weekend. But after that we've got a three-week break, and we'll try to use it in the best way possible in order to bring upgrades as quickly as possible on the car.
Q: But does the current car have any of the same qualities that made you so competitive 12 months ago?
Leclerc: I don't know. In the end it's a relative sport. So yes, it's an evolution from last year's car but clearly it's not enough when you look at where Red Bull is, especially in race pace. So yeah, we've got lots of work to do.
Q: Oscar says he hopes that this track is quite like Jeddah, the tarmac is quite similar. Given that you were only one and a half tenths, I think it was, off pole position in Jeddah. Does that give you some confidence coming here?
Leclerc: I think that in qualifying, we've been quite good since the beginning of the season. Where we need to focus on is the race where our car is extremely peaky. When all the conditions are right, we seem to be able to extract the performance out of our package but whenever the conditions are changing a little bit, with a heavier car where you see a little bit more the limitations of the car, then that's where we struggle. So we are trying to focus on that. I do believe that we'll be quite close in qualifying – I hope so – but I think that the picture in the race will be quite similar.
Q: And do you think the fourth DRS zone that we're going to have this weekend will help or hinder you?
Leclerc: I don't think it will change much.
Q: Zhou, let's come to you now. You enjoyed your first trip to Melbourne last year. What have you been getting up to since you arrived this time?
Zhou GUANYU: Yeah, obviously last year was actually quite good until the last lap where Alex was using the same set and pitted the last lap of the race. But yeah, apart from that, I really liked just firstly, the crowd and atmosphere here, and always see a lot of people – or a lot of people from my country, at least, living here or studying here. So it's great to have kind of semi-home support, in a way. And yeah, apart from that, I've just been not doing much, just trying to get rid of my jetlag. It's been going well to get the preparation done for the race weekend ahead.
Q: You've done a lot of racing against Oscar in the junior formulas. Has he given you any places that you need to visit here, or any suggestions?
Zhou: Well, I hope he does after this – but not so much before that. It's nice, actually, to see [FIA Formula 2] as a category, coming here, because when we were racing together we normally don't get to see all these places like here, going abroad and away from Europe. So yeah, I really like, in general, the culture here, and also my team-mate has a big influence, with this Australia-thing with his haircut, so I guess I'll get more from Valtteri than from Oscar, that's for sure!
Q: Did you see what he turned up in today?
Zhou: Yeah, I tried to not look at it as honestly it was not my thing! I don't know if some of you guys saw it but it was quite crazy.
Q: Now, it's a long flight here. So you've had plenty of time to reflect on the performance of your car in particular, in the opening to races. Where do you think Alfa Romeo are at, at the minute?
Zhou: I mean, it's very similar to, let's say, where they are with the McLarens. I think we are just fighting for the backfoot of the points. It's clear there are three or four teams clearly ahead of the rest – but then I think from P8 downwards it is very tight. Everybody can be grabbing these final points finishes – which is the aim, or the target, realistically from. I feel like in Jeddah we were really close in Q3, also the race pace, running top ten most of the race before the pit-stop, and then passing into a trickier window. So, I think we can still fight for it. And we're not, you know, too far away from this. So it's just the little details that can really make the difference in the midfield.
Q: Fernando coming to you. Only the sixth driver in history to reach 100 podiums. We get to talk to you about it now because we couldn't do it after the race in Jeddah. Just tell us, what does that landmark mean to you, now that you've had a bit of time to reflect on it too?
Fernando ALONSO: Well, obviously it feels good, feels nice to reach that number. But yeah, obviously when you are in a Championship, you're not really concentrated on that, you are just thinking about the next weekend, as we did after Jeddah, and here we are in Melbourne, and hopefully we have a strong weekend again.
Q: Can we throw it back to Jeddah just one more time? I want to talk to you about the grid penalty. How difficult is it to see your grid box in these cars?
Alonso: It is difficult. And yeah, apparently this year, it seems even more, because in two races to have two penalties is a little bit strange. But yeah, I mean, in my case, it didn't change much from last year. It is difficult and we are very concentrated on the yellow line to not go too far forward. So, you approached the box, let's say, not looking at the box, you are looking on one side of the cockpit. So maybe that's a bit of a distraction. But yeah, I made a mistake there. So we will try to be more focused on the box this weekend and avoid any penalty.
Q: The box is going to be 20 centimetres wider this weekend, I think there's going to be a central line as well. Will that help?
Alonso: The central line? I don't think so. Because as I said, you approach the box looking sideways, so you're not looking forward, so that's the biggest difficulty – but the 20 centimetres will help I guess. There's going to be some circuits, maybe Monaco, or Imola that you start a little bit sideways anyway. Because if not you crash if you start there straight. So, we'll have to see how we apply the penalties and things like that in those races. But yeah, no one wants to get a penalty for the start. Also, I think the FIA doesn't want to have any problem with that, because there is no performance advantage, as long as you don't go too forward. So yeah, hopefully we avoid anything from now on.
Q: The car was quick in Bahrain, it was quick in Saudi, have you seen enough to know that you're going to be quick everywhere this year?
Alonso: Not yet. I think we have to wait and see. Also, I think very soon, from Baku or Imola, we will see the teams changing a few parts in the cars. And maybe that changes, also, how competitive you feel. So let's wait and see. At the moment we were extremely happy with the performance of the car, obviously. It was better than expected, especially in Jeddah. I think it was a nice surprise. So yeah, we arrived here with a good level of confidence. But, as I said, after a few events from now on, I think the cars will change a lot, in a few areas, and a few developments. So, let's see if we can keep this pace.
Q: Max. Coming to you now and given your recent dominance in Formula 1, it seems crazy that you've only finished on the podium once here in Melbourne, back in 2019. Do you like the track?
Max VERSTAPPEN: Yeah. I mean, of course, it was a bit different back then but yeah, this track, I think it's just because the last few years we've never really been that good at the beginning of the year. So, I think if this race would have been in a different place on the calendar then probably we would have had a lot better results here. But that's not how it is. But yeah, for sure we do need a bit of a good result here.
Q: Well, how confident are you coming into the weekend?
Verstappen: Yeah, I think we have a good chance, of course, for a good result, but we do need to execute a good weekend yet.
QUESTIONS FROM THE FLOOR
Q: (David Croft – Sky Sports F1) Question to Max, and to Charles really, because the fortunes for both of you couldn't really be more contrasting since you came here 12 months ago. So, Max, in your case, what's gone right, and Charles, sadly for you, what's gone wrong?
Verstappen: I think last year, our car was very heavily overweight at this stage of the season, so that didn't help. I think last year here we had a big shift in balance between Qualifying and the race, so that caught us out in the race. And yeah, we were not reliable. So that, of course, is never nice at the beginning of the year. But we also knew that there was a lot of potential in that car, just from the updates, but especially from the weight side of the car. But yeah, last year was very frustrating here, being slow in the race, retiring from the race. But I think we also understood quite quickly after the weekend, what we did wrong, of course, with the setup, but also, we had to work on our reliability, because I think, from then onwards, it was quite alright, in terms of reliability. And of course, we make big steps with the performance of the car.
Q: Charles?
Leclerc: Well, I think you can take Max's comments and turn them around and then it's kind-of an explanation for us. I think the first few races went quite well. Red Bull was a little bit on backfoot, reliability-wise, and also in performance, we were good. Then we had a time where there were just too many mistakes. And then we lost quite a bit of points. And then for the second half of the season, we were just not competitive enough. So yeah, but we know the story about last year, and now it's all about focusing on what we can do better to improve and to come back to their level. And, as I said before, we know where we need to work on. And now we just need to make it happen.
Q: May I ask where that is? Where do you need to work?
Leclerc: Honestly, it is just to try and have a more solid car in all the conditions, just because we seem to be quite good in terms of Qualifying whenever the peak grip is there. But then, whenever we lose a little bit of grip in the race, then it starts to be very, very difficult and we seem to lose quite a lot of performance, so on that we need to work.
Q: (Luke Smith – The Athletic) Fernando, we saw the video of Carlos Alcaraz, the Spanish tennis player, signing on the camera '33-Soon'. The 33 trend in Spain seems to have really ignited with your success in the early part of the season. What have you made of that? And what's the reaction been back home about the excitement that you could maybe get another win?
Verstappen: It's a good number!
Alonso: I should ask if he's still using Number One, I will ask for 33 next year! Yeah, I mean, it's crazy to see how Spain is now so enthusiastic, again, for Formula 1 and for everything that is happening. So, you know, this is very, very nice to see. And hopefully I think they did enjoy these first two podiums, the whole country, and I think in Barcelona it's going to be a big thing this year again. And yeah, this 33, I don't know, all these things that are happening now on social media. It was El Plan three years ago, and then The Mission, and now 33. So, there are a lot of 33s, and yeah, all the football clubs, or footballers, and now tennis, or whatever, and they are all doing something with 33. So, hopefully we can reach that number in terms of wins, and then we go for 34.
Q: (Stewart Bell – Maxim Australia) This is for Fernando, just continuing on from that. What are your thoughts on the removal of the chicane at Barcelona, Turn 14-15, and obviously taking your competitive Aston Martin there?
Alonso: I don't know. I think it's going to be okay, probably more fun to drive. It was a corner that I think was too slow for these Formula 1 cars and the size of these cars as well. I think it was not really enjoyable to drive, but it remains to be seen if the new layout will help the overtaking, or will help the show in general on the race. But I've been racing in that layout for a few years, including in Formula 1, so I think it will be more fun to drive and hopefully we put on a good show for everyone.
Q: (Damien Ratcliffe – The Age) For Oscar: just wondering what are the luxuries or the enjoyment back in Australia, the foods that you are to eat again? Will you go to the footy on Friday night, being a Tigers man, I assume?
Piastri: No, I won't be going to the footy on Friday. I'll be trying to get a good night's rest. But also behaving myself on food this week. I mean, it's hard in Melbourne but no. Went and saw mum, went and saw my Dad and had some home cooked meals, which was nice. But yeah, I've been keeping it pretty sensible this week.
Q: (Stewart Bell – Maxim, Australia) This is for Oscar. Just if we can cast your mind back to Bahrain and being on the grid for your first race. What was going through your mind as the lights counted up and also, in addition to that, what circuits are you looking forward to further into the championship in driving?
Piastri: Yep, it all happened pretty quick in Bahrain to be honest, you know, did the driver parade and then the laps to the grid national anthem and then helmet on and jump in the car. I think someone missed their grid box in front of me, so when the lights came on, I was actually still pulling up into my grid box, which was a bit of a 'welcome to F1'. But no, it was good, and nice to get the first one out of the way and I think this year obviously I'm looking forward to racing here at home. I think, for me, Spa is my favourite track on the calendar so I'm looking forward to going back there. Silverstone as well – another awesome track and obviously McLaren's home race as well. So plenty of favourites this year.
Q: (Pedro Fermin Flores – TheGodFlores) First, one for Max. Continuing with the joke about the 33: if Fernando does the 33, you will get then some kind of free merchandising rights? And the second one for Fernando. Fernando, this is serious: will there be any kind of chance that you have a grandstand in Barcelona for the Spanish Grand Prix?
Verstappen: I think Fernando should have won, already, a lot more races then he has done. I think he deserves a lot more. So yeah, I mean, I would be quite happy to see him win number 33. But I also, in a way, also would like to see him win more. So we'll see in the coming race.
Q: Have you got any merch leftover?
Verstappen: Yeah, we always have stock, don't worry!
Alonso: There are a lot of orange shirts everywhere, so for sure there are some. For the grandstand, I think the whole circuit is going to be the grandstand.
Q: (Mat Coch) Oscar, there was a lot made of this weekend for you in terms of the build-up and how busy it was going to be. Has it been that busy? And what are you doing to manage yourself and your energy?
Piastri: Yeah, it's been reasonably busy. I think we've been managing it very well. Obviously, having Mark in my corner is very useful, because he's been in my shoes plenty of times here in Melbourne and obviously the team have got experience with Daniel in the last couple of years as well. So, I think we're very organised with that kind of thing. I came out here a little bit early, so I could firstly get used to the jetlag, but also to see some friends and family, which was nice. And then I think the rest has been very well managed. It's not been too crazy. And it's allowing me for the rest of the weekend to fully focus on driving, which is nice.
Q: (Emily Selleck – New York Post) Max, you've got a documentary coming out this weekend. What can you tease for what fans can expect?
Verstappen: A bit more of an insight into me, but also very close family members and how they experienced my career and how we lived through the goal of getting to Formula 1, and then, you know, having the results in Formula 1. I mean, I'm normally not a guy who really likes to open up about these kinds of things, but I think it does give you a bit more of an insight into how everyone lived through that period. And yeah, I think it came out really nicely. I mean, I've watched it myself of course before, and yeah, just not only about myself, but also the people very close to me, how they see things, how they experience things and at the moment. So yeah, I think it's worth watching.
Q: (Luke Smith – The Athletic) For all five of you guys. We've got a four-week break after this race until the next race in Baku. How do you approach that? Does it maybe kill some momentum you might have built up? Does it give you a chance to reset and are you grateful for that big break in such a busy season, with 23 races?
Zhou: Yeah, obviously, I don't want to have that break, because you know which race was missing from that break! But yeah, I think with such a busy calendar we're going to, it's not just about going to different race weekends, it's also going to a lot of activities with the team, sponsorships. So I think it's always nice to have some period off and I think, you know, for most of the drivers to reset and try to prepare for the forthcoming [races] and work on the weaknesses and try to improve all these things.
Leclerc: Yeah, I think in the situation we are in as a team, we take this as an opportunity to work as much as possible during this break in order to get upgrades as quickly as possible and be as competitive as we want the sooner in this season. It's still a very, very long season, we've only done two races. So, we are fully motivated to get back on top. And we'll try to use these weeks in the best way possible.
Piastri: Yeah, I think, for me, it's a nice opportunity to, I guess, look back at the first three races of my F1 career and digest what went well, what went not so well. And it's a bit of a reset for the rest of the year. So, I think it'll be nice for everyone. Obviously, you want to keep that momentum if you're going well, it's a good chance to reset if you're not, so I think we'll use it to our advantage.
Q: Fernando, do you welcome the break?
Alonso: No, I prefer to keep racing.
Q: So, how are you going to approach the break? What's going to go on? Will you be at the factory a lot?
Alonso: Yeah, I guess so. Obviously, you will use it just to prepare for the next race in a better way and review the first three races. And, you know, in my case it's a new team, so there are a couple of things that we want to revisit and things. So, yeah it's OK, but it's better to do it on a racetrack.
Q: And Max?
Verstappen: Well, a couple of weeks ago, I would say that I was not looking forward to it. But then I got really ill and I've just been struggling a bit since that time, especially last race out. So for me now these three weeks is just getting back to, like, full fitness, getting a full programme in. So, in a way, it's probably nice now. Normally, if you just feel well, I think I would also prefer to keep racing. It has nothing to do with looking into the car, trying to make it faster. I think that's a natural process. But it's a bit weird to have three weeks off, especially that early in the season.
Q: (Silja Rulle – Bild) A question for Fernando. Last time the Australian Grand Prix was scheduled on the second of April, you won it? Do you think this is maybe a good sign for the weekend?
Alonso: It is! Yeah, it is. I didn't know that. I knew that the 101st podium for all the other five drivers that have reached 100 podiums was a race win? So, too many coincidences now.
Q: (Rebecca Williams – Herald Sun) Oscar, how confident are you that forthcoming upgrades can help deliver more of a performance advantage for McLaren on track? Do you have any concerns on that front at the moment?
Piastri: I think it'll definitely help us to move closer to the front of the grid. I'm sure all the other teams have got upgrades of their own as well. And I think what we've got coming in Baku is a good step in what is a bigger plan throughout the rest of the season. So it'll help a bit, definitely, and get us on the right track, I hope. But, I think we are not underestimating that everyone else will probably have new parts as well, so we'll see how much competitiveness we gain from that.
Q: (Sam Johnston – Sky Sports) One for Max. How much do you feel that illness affected you last time out in Saudi? And are you feeling 100% ready to compete this weekend? And also, are you fully confident that the reliability problems you had there won't cause you trouble this time around?
Verstappen: Yeah, well, I refused to believe it myself for a long time. Because at home I was really ill, like I could barely just walk around and I felt like I was missing a lung. And yeah, I got to the weekend really believing that it was gone, because normally when you get sick, like, two or three days after you are normally alright, you can just do your workouts. But then when I jumped in the car in FP1… Even just one performance lap, I felt like I had to recover for two laps to be able to breathe normally. So yeah, it definitely did affect me throughout the weekend, which I didn't like, because it was one of the first races where I Just felt like I was physically limited. And that's really frustrating when you're out in the car. But yeah, since then I've been trying to work on it, trying to improve it and I do think that it has improved a lot. So normally this weekend should be alright. I think it was just all coming together in Jeddah. It is quite a tough track in general and when you don't feel well, it hits hard on you. But yeah, these things unfortunately happen, you know, that you catch a virus and stuff. So, yeah, hopefully, from now onwards, for the rest of the year, I should be okay.
Q: (Adam Cooper) Fernando, obviously, you got your third place back, but how frustrating was the timing of the decision? The fact that you couldn't fight for your 10 seconds; you had the trophy taken off you after the podium. Is it something you are going to maybe talk about in the drivers' briefing? And also we saw the trophy getting delivered to the factory? Have you got it yet?
Alonso: I mean, yeah, it was not ideal, but it was not frustrating, let's say, because I was in the podium ceremony and things like that. It would be very different if it was not that case. I think we will not talk too much at the drivers' briefing. There's going to be, I'm sure, a few things from this place after the free practice. But yeah, the trophy's at the factory. I haven't been to the factory yet, so I didn't see it. But it's all good.
Q: (Roger Byron – Beyond the Racing Line) Charles, you've already picked up penalties for component overuse? Is it time that we look at the penalties for components being overused now we've got a budget cap? Is it time that we can start to release that a little bit and teams can choose where they use their budget?
Leclerc: Well, honestly, I don't see the reason why. Obviously on our side, we've had two failures of the same component in the same weekend, which is unfortunately the first weekend of the season. But this is something that we need to fix internally. We know what went wrong. And yeah, I don't think that because of this, we need to change all of it.
Alonso: It's not in the budget cap, the power unit… only for the customer teams!
Q: (Bruce Williams – Auto Action) This one's for Oscar. Mate, you hadn't raced for more than a year and obviously in Bahrain you had a pretty short race. And Saudi was your first full-distance race and a pretty hot sort of environment and a tough track. How did you feel? How were you physically and mentally after that race?
Piastri: Yeah, it was fine after the race. Neck was a little bit sore by the end, because Jeddah is pretty tough. But yeah, it felt good. I think with more and more laps I'll get more and more used to it as well. But no, it was all good after the race.
Q: (Bruce Williams – Auto Action) And are you starting to get rid of the rust?
Piastri: Yeah, I think so. Obviously, in Bahrain I only had a few laps to get rid of it, but you know, I think that every lap I do in the car I'm getting more and more used to it again. And you know, every race that I do, every first lap I do, it comes back. I'm sure it's going away but I still need some more experience.
DRIVER GROUP 2: George RUSSELL (Mercedes), Pierre GASLY (Alpine), Nyck DE VRIES (AlphaTauri), Nico HÜLKENBERG (Haas), Logan SARGEANT (Williams)
Q: George, the man who finished third here last year and thought he'd finished third in Saudi of course, two weeks ago, but you ended up fourth. What was your reaction to Fernando getting that third place back?
George RUSSELL: Yeah, I mean, obviously, it was the right decision. It was just a bit of a shame, what a mess it was for everybody else included, I think from my side and our side, we didn't feel like we deserved to finish in third position, but obviously it's quite a nice feeling when it's handed to you. And then when it's obviously taken away from you again… It was all a bit silly. Fernando was actually the first person to tell me that I'd lost the position, because I bumped into him at the airport. So he clearly had some insider info. But congrats to him, he was a deserving P3 finisher.
Q: You say you think you didn't deserve to finish third, but do you feel you maximised the potential of the car last week?
Russell: Yeah, to be honest, I felt like Saudi was probably one of my strongest weekends I've ever had with Mercedes, from qualifying, really pleased with how that went, the race felt really strong. And P4 was, I think, the absolute maximum we could have achieved. I think the Ferraris were probably a little bit fast for us that weekend. We also had Stroll, who obviously had the failure, but he was right behind us. So P4 was a good result.
Q: George, a lot has been written and spoken about the W14, not all of it complimentary, it has to be said. Are things as bad as some people want us to believe?
Russell: Yeah, I mean, I don't read what's been said in the news all the time. But you know, we're here to win, we're here to fight for victories and for the championship and clearly we're not in a position to do that at the moment. But big changes are incoming. There's nothing that you'll see on the car this weekend, because naturally you can't get things brought that quickly to the car. But I think in due course, we'll see some big changes and hopefully the lap times represent that.
Q: Have you been able to try the changes on the simulator back in Brackley?
Russell: Yeah, I mean, we're working really hard at the moment with these changes. I won't give too much away. And we need to make sure they work as expected. But as we've said a number of times, we're probably finding more gains in the past two or three weeks than we found over the whole winter by clearly developing in the wrong window. So yeah, it's definitely heading in the right direction.
Q: Just a quick word on this weekend. What's possible?
Russell: I think if we manage to get another P4 or fight for the podium that will probably be exceeding the potential of the car. I think Aston [Martin] are going to be really strong here. They seem to be the quickest car in medium-speed corners and obviously there's plenty of them here in Melbourne. So, if we can fight with Aston and Ferrari again, that'd be a good weekend.
Q: Pierre, let's come to you now. Clearly a man who's enjoying being back in Melbourne. What have you been up to: surfing, golf, supercars? Have I missed anything?
Russell: Shopping!
Pierre GASLY: Ha! Actually, it's been a pretty busy last couple of days. But I will say, highlights? Driving a V8 Supercar was pretty cool. That was definitely a very enjoyable experience. It was only a few laps. We've got a bit of drifting in as well yesterday. The team kept us busy, but yeah, very enjoyable so far.
Q: Having a good time. And in terms of performance, it's been two ninth places for you so far this year. Are you pleased with your progress at Alpine?
Gasly: I wouldn't say that I'm pleased because we obviously want to fight higher up the grid and it feels like so far we're a bit in no man's land behind the top four teams. I had a bit of the midfield behind us, even though it's really close, but we are still chasing and trying to get closer to those front runners. So obviously, it's been only two racetracks and I think it's going to be interesting to see how things go in Melbourne, a different track than Jeddah. But generally, I think it's been an OK start, a decent start, but as a team we want to be fighting for bigger points.
Q: Well, George has just told us that they've made huge progress at Mercedes in the last few weeks. Are you happy and confident in the future in terms of what Alpine have got coming?
Gasly: Yeah, I'm confident. I think the team definitely showed last year they were probably the best team in terms of development through the year, so there's a good understanding and correlation between the upgrades they're bringing on the racetrack, so it's just a matter of time until we see new parts coming on the car and obviously there is also this part of understanding between the team and myself, really understanding what I need out of a race car to extract the maximum of it. It's been only two races and as I say, decent, but generally speaking, the overall performance hasn't been as good as we aim for and we'll work to make that better over the next few races.
Q: Do you welcome the four DRS zones that we've got at Albert Park this week?
Gasly: Yeah, I think it's going to be interesting. We know obviously that Melbourne is usually a very difficult track to overtake, so if you can increase the overtaking opportunities, increase the racing, make it slightly more entertaining and a bit more racier on that track, I think that's definitely positive. But it's not guaranteed. We'll see in practice what we get and the most important thing is just to make sure we are fast enough to fight for the points we want.
Q: Nyck, this is your first trip to Australia, I believe. Have you been shopping? Have you been surfing? Have you been driving supercars? Tell me what you've been up to?
Gasly: Socialising?
Nyck DE VRIES: Yeah, this is my first time out in Melbourne. It's been a good couple of days already. I got here quite early to just reset the timings a little bit. I'm still not sleeping without waking up. But we've been training a lot. We found a cool gym nearby, in a kind of old chapel, with a dog as a mascot of the gym. And usually I'm scared of dogs but this was a very friendly, angry looking dog, but very sweet. So we had a good time training.
Q: Let's throw it back to Saudi quickly, because you seemed frustrated after the race. Given that you didn't get any running in FP3, was that frustration justified? What have you learned about the car since the race?
De Vries: I think generally, we are in a position that we need to look at small steps and positivity to encourage us forward and continue to try and close the gap towards the top 10. But yeah, after the race, I felt like there were good elements of the race, like my last eight laps were very competitive. But in traffic I felt like I wasn't necessarily good enough. And especially at the restart, when we were on the Hards, it took me too long to kind of switch them on. So yeah, I was just critical about myself. I just didn't think I did a good enough job in those phases of the race. But just globally speaking, we've done two races and I see and feel that I'm making little steps and that is encouraging. And hopefully this weekend we can continue to move forward and fight for a point.
Q: And do you feel that you've got your feet firmly under the table now at AlphaTauri? And you getting on OK with Yuki as well?
De Vries: Yeah, I mean, the vibe in the team is really good. But we are competitive and we want to be further up the grid. And we obviously would have hoped and liked that we were a bit more ahead and in the fight for points, but hopefully during the course of the season we can get ourselves in that place.
Q: Nico, welcome back to Melbourne. I feel that needs to be said. First time you've raced here since 2019. Are you pleased to be back?
Nico HULKENBERG: Yeah, it's a great town, fantastic track here, the park atmosphere. I think I've always had pretty good runs here, of races, a lot of points. So we look forward to getting out there tomorrow, discovering the slightly new layout now, more high speed. And yeah, happy to be here.
Q: Well, have you tried the new layout in the simulator? What do you think of it?
Hulkenberg: Yeah, I did a brief couple of laps. Yeah, it's definitely much more flowing, more fast speed, a lot of medium speed corners, high speed corners. So yeah, it feels pretty pretty rapidly fast.
Q: Now, Nico, the last time we had you in here was before the first race of the season. You're now two races in. How do you feel it's going?
Hulkenberg: It's gone OK. It's still obviously very early doors. No result, a point, just yet but I feel it's a lot of good progress being made over the first two races. Obviously the beginning of the season is such a steep learning curve for the team but also for myself after the time away. So I feel pretty happy and confident that there's more good things ahead of us.
Q: Has Guenther sworn at you yet?
Hulkenberg: No, he hasn't.
Q: Logan, your first trip to Australia as well, how are you finding it?
Logan SARGEANT: Yeah, it honestly reminds me a little bit of America, to be honest, quite familiar in the feel of the city to be honest. And yeah, it's always a place and a track I've wanted to visit, so pretty excited to be here for the first time.
Q: Any cool stuff that you've been up to that you can share?
Sargeant: Cool stuff, I'm not sure. I took a nice walk around the city just to check it out. Other than that it's just been training and sort of getting acclimated to Melbourne.
Q: What about the racetrack? Tell us how you've gone about learning Albert Park?
Sargeant: Too many laps in the sim, that's for sure. But it's honestly a track that I've driven on sims for however long - since I was a kid, just a track I've always looked forward to coming to and we did a track walk yesterday to really get a lay of the land and it looks awesome, tricky, but looking forward to taking it on.
Q: Now, what element of Formula 1 have you enjoyed the most so far this year?
Sargeant: What haven't I [enjoyed]? It's hard to pick one; I've loved everything. And I think, honestly, just having the element of going against 19 of the best drivers in the world. And really challenging myself to step up and make something happen.
Q: And what bit of the driving are you most pleased with? Qualifying seems to have gone well – when you haven't cut the circuit that is, as you as you did…
Sargeant: I wouldn't say I cut it but…
Q: Are you pleased with qualifying?
Sargeant: Yeah, I think Saudi was a really good step forward in terms of qualifying pace from Bahrain even though nothing came of it but I think that was super positive. I feel honestly super comfortable in the car. I feel like I've got my feet under the table. But there's still a lot to learn in the races so trying to get on top of that. I've always been very comfortable with my qualifying pace coming from the previous series. So just trying to get on top of the race runs.
QUESTIONS FROM THE FLOOR
Q: (David Croft - Sky Sports F1) Stefano Domenicali said he might be in favour of changing the schedule, mixing things up a little bit and having a bit less practice on a Grand Prix weekend. So to you all, honestly, do you need three practice sessions on a race track each weekend?
Russell: I think no is the answer. Obviously the more practice you do, the more up to speed you'll be, the more comfortable you'll be with the car. I don't think it's right that Formula 1 has three times the amount of practice that you have in the F3 and F2 categories. They should be the ones to get more practice, also because they're doing less races, they don't get to test that often. No practice would be too little. I wasn't in favour of the sprint races initially, but having done - how many have we done now? Six, nine, maybe over the two years? I really enjoy the sprint races and having action on a Friday, I think, is vital for all of us and also for the entertainment factor.
Gasly: Yeah, I agree with George. Definitely, three's no needed from a driving point of view. It's always nice, you can work on fine details on the car and really try to nail the car balance for the weekend but generally speaking, I think one, two maximum, is more than enough for us. So yeah, I kind of agree. On the sprint races I think we've had different feedback. I think there's a lot of discussions on what to explore and how to increase the entertainment and the racing, so I think it's good to always kind of question what we're doing and kind of looking at how we can improve the format and just the whole format of the weekend in general.
Q: What does the rookie think?
De Vries: I echo Pierre and George's comments. The only thing I would say is that if you make a change it will be the same for everybody. So I think in all junior series we've been used to actually only doing one free practice session so I think we could do with less.
Hulkenberg: Yeah, I think it comes down to a bit your personal opinion preference. I think we have a good amount of practice now. Thinking back to what George said about the junior series, I quite enjoyed it at the time, having only 30 minutes, like in F2 and then getting thrown into qualifying. So, yeah, I think it's a matter of personal preference and opinion. So, yeah, can discuss that for a long time probably.
Sargeant: Yeah, I think three is definitely a lot, especially coming from F2 where you just have to take risks a lot sooner than I currently have to. So as a rookie, I don't mind having two or three but going forward, I don't think three is necessary. Well, it is my favourite number!
Q: (Luke Smith - The Athletic) Following up on that, regardless of how many practices, what do you think about the idea of putting something in practice that makes it worth fighting for like setting a really quick lap time, be it points or some other kind of benefit? Or do you think practice should be just left as practice to dial in the cars?
Russell: I think, just practice to dial in the car, to test things for the future. We obviously have no testing at all. I think one session is good enough for all of us to do the various things we need to try and to help develop. This is still the pinnacle of the sport and you don't want to be just left with the car that you created at the start of the year with no opportunity to try out new things. And that is sort of the beauty, sometimes; you've got this 60-minute session, you can try new things, develop, improve further. Whereas if you're going straight into a session that is points-worthy or there is a reward, you're less likely to trial new things.
Q: (David Schneider - Hersey Shiga Global Sports) Nyck, Franz Tost expressed his loss of confidence in Jeddah in his engineers; do you think he exaggerated and what is the top priority in improving the AlphaTauri for this race?
De Vries: I honestly think the vibe within the team is great and I felt no difference post certain comments that have been made. I think things can be taken a little bit out of context and I think we were all kind of scratching our heads and we all want to be as quick as Red Bull that is currently winning and dominating. So we're all trying to improve and work hard to make that progress and so are we and we are racers and we are passionate about what we do. But I felt no change within the ambience and atmosphere within the team. So I'm very happy where I am and I'm sure that we're all very keen to continue to push forward.
Q: Is Franz as hard on his drivers as he is his engineers?
De Vries: I think Pierre can answer that question better than me because I have little experience.
Q: That was a thumbs up from Pierre, right?
Gasly: Double.
Q: (Mat Coch) I just want to get back to the practice stuff. To the five of you: ignoring everything else, what's your idea of a perfect race weekend considering practice, sprints, qualifying, everything?
Hulkenberg: I don't know. It's not something I think about actively because the schedule is the way it is and we will come here and we have this rhythm. Since I've been in F1 it's always been the three practice sessions; now it's already cut shorter which kind of feels good. And I think it's good the way the build-up of the weekend is: Friday's a practice day and Saturday is more important, tension rises and then Sunday the highlight, the main day, so, no big desire, personally, to change anything.
Russell: I probably say, for the benefit of the two or 3,000 people travelling around the world, having the first session on a Friday afternoon, evening so there's less pressure for teams to arrive, let's say, on a Wednesday. If you have your first session on Friday morning you need to be here on a Thursday which for a lot of the races requires flying on a Wednesday and if we can push that back to allow teams to fly on a Thursday morning… You add that up over 24 races in a year, you're getting on for almost a month extra at home or sleeping in your own bed, which is huge for everybody in this circus. So yeah, I'd say Sprint format, but just making sure that first session is delayed a bit.
Gasly: No surprises he's running the GPDA! I think George has got a great idea. I think I support that. We're all quite keen, I think there were a lot of talks in trying to push the weekend a bit forward, having a session on the Friday and yeah, I think I think we all quite keen to do that, especially with more racing on the calendar and always more talks to add these races in the future. So definitely, yeah, keen on trying that and Friday for practice, more action on Saturday. I think the Sprint is definitely something to explore, as well, but just keeping the main Grand Prix on Sunday, and not changing the DNA of the sport.
Q: (Luke Smith – The Athletic) George, another question for you with your GPDA hat on. Last year when we came, I think you said that the Australian Grand Prix being a standalone event just didn't really make a lot of sense for many of the same reasons. It is again this year. How much input do you and GPDA have when it comes to looking at the calendar and issues such as that, particularly when it comes to the wellbeing of the people in the paddock as you highlighted?
Russell: Yeah, I think collectively, we have a really strong input. And I think Stefano's incredibly open to hear our views and have conversations. There's obviously been a lot of talk about how sustainable the calendar is, jumping from the Middle East to America and back to Europe. And I think in years to come that will be improved. I think for a lot of the fans it doesn't make a lot of sense. There are a lot of limitations with the climate; we race at certain events and limitations of street circuits, of when they can open them. But definitely I think Australia needs to be back-to-back with a Middle Eastern race, because I think almost all of us flew out here on a Saturday or Sunday last week. All of the mechanics, the engineers likewise so you're already losing those additional three or four days. So yeah, it makes sense to be back to back with a Middle Eastern race.
Q: (Sam Johnston – Sky Sports) George, going back to Jeddah, Lewis seemed to think after the race that he described the difference in your setups as 50-50 and you suggested you got lucky, it wasn't necessarily like a choice that he expected to work out for you. I was just interested in your reflections on that and how you saw the difference in your setups?
Russell: Yeah, I don't think there's any luck in it at all, I think it's down to the preparation you put in before the event and the changes we made overnight, I knew that was going to be the right direction with the work we did with the team. And I believed it was going to be better than the setup that Lewis opted for. So yeah, I think everybody's got different preferences. I was happy with the direction I took and with the work I'm doing with the engineers.
Q: (Adam Cooper) For all five of you: how difficult is it to line your car up in the grid box and they're being made 20 centimetres wider this weekend? Will that make any difference?
Sargeant: I think just coming from F3 and F2 where you can see everything, you can see the yellow line, it's really easy to line the car up in the right spot. First thing I noticed, the first time I lined up in a grid box in an F1 car, you can't see anything. You can't see any of the lines, so you have to take a marker on the wall to your right or left to know how far forward you can pull as well. So it is a lot more difficult and I'm not surprised that there are struggles.
Hulkenberg: Yeah, it's kind of easy to misplace your car a little bit. The cars have also got wider over the past few years I feel. So yeah, extending the width, for sure, will help a little bit.
De Vries: You literally can't see anything. You park up but you kind of reference yourself to the car in front of you and then you kind of guess where you are. You can see the yellow line coming into it and then it disappears and you just hope you don't exceed it too far. So, definitely very challenging.
Gasly: Yeah, I agree. It's quite… one of the most stressful times of the race, to be fair. If you look back at the first two races of the year, two drivers got penalised. I don't think this is necessary and I think it's good we are increasing and just giving us slightly more space. It doesn't really change anything for anyone, just making it slightly easier for us because the visibility from inside the cars is very limited obviously. And yeah, I think that's a positive change.
Russell: I think it's incredibly tough. I think a five-second penalty for being laterally out is probably too harsh. Yeah, we can't see anything when we line up so yeah, the penalty needs to be reflected on the difficulty.
Q: (Sam Johnston – Sky Sports) George, just going back to what you said on the development of the car over the last two to three weeks, does it feel like the team and yourself have moved on your position and how you saw the car performing this season. You were very optimistic pre-season and less so in Bahrain, and now you seem to be more positive again. So has that kind of lifted your expectations of where you see yourself being by the end of the season?
Russell: I think it's a case of managing expectations, and just focusing on yourself and that development. We all believed over the winter what we were doing was correct because it was an evolution of what we did throughout last year. And we all saw the improvements we made as a team throughout last year to win a race at the end of the year and be fighting at the front. Yeah, it caught us by surprise to see the lack of performance when we hit the track in Bahrain and that's why we were quick to change our approach. I think already on the Saturday night of the Bahrain Grand Prix, we were trying different things, going in a different direction with the development because we recognised we'd maybe gone too far. So I'm not going to sit here and say we're incredibly optimistic. All I will say is we are making improvements and that should translate into lap time. But we recognise that Red Bull are over a second down the road at the moment.