MAY 18, 2003
McLaren's double gearbox plan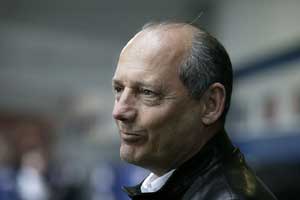 © The Cahier Archive
Ron Dennis has revealed that McLaren has two different gearboxes for the new MP4/18.
"It takes a very long time to design and build a gearbox," Dennis said. "It's not so much the casings, it's the internal componentry: the lead time on some of them is months and months. And we took a decision more than six months ago that we would do the car with two gearbox configurations. One has a different concept, and the other is a more traditional gearbox, based on the 17D. We did that to ensure that the new-concept gearbox didn't interrupt the race debut. But we are in full production of both gearboxes and they went to test on to the transient dynos within a few days of each other. The car was always designed to use two different types of gearbox: they're both raceable, they're both built in volume to enable us to race either. It's just a slightly more expensive way, but it's the proven way to go about it."
Dennis said that the new car will not be seen at Monaco.
"There's no logic in bringing a new car to Monaco, however quick it is," he said. "It is very much a driver's circuit. And while the car does play a role, what you need is total reliability, a known quantity in weaknesses and strengths. So I don't think it would be the smart thing to do, even if we were quick. But the car's on target, we re-programed the timing of the car after the first two results of the season, we were encouraged by the performance of the 17B, and therefore changed the target dates, just a little bit."
"We don't intend to get into any big, formal launch. It will be very low-key. We'll just concentrate on developing the car. But we will quickly be able to race it, from a components point of view. We will only race it as and when we feel comfortable with its reliability and performance."
Other stories for MAY 18, 2003