SEPTEMBER 20, 2023
McLaren extends Piastri through 2026
The McLaren-Mercedes F1 team announced today that they have extended the contract with Oscar Piastri through the 2026 season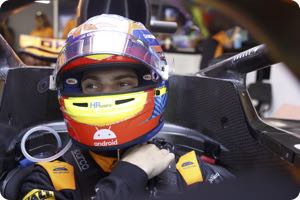 Oscar Piastri said, I am thrilled to be extending my partnership with McLaren for many years. I want to be fighting it out at the front of the grid with this team and I am excited by the vision and foundations that are already being laid to get us there.
The welcome that I have received and the relationships that I have built make this feel like home already. The team's consistent commitment in me has made me feel incredibly valued and the desire from the team for me to be part of its long-term future made this an easy decision. To be wanted like that and for the team to show so much belief in me after just half a season, means a lot.
Ever since the Abu Dhabi Young Driver Test last year, I feel a real part of all things papaya and my thanks go to everyone in and around the team, as well as all the fans.
Stability is a huge advantage in this early part of my career and to have that with a brand as prestigious as McLaren gives me the opportunity to continue the work that we've started.
We've enjoyed some good moments together in my rookie season, but I'm excited to work together with everyone at MTC over the coming years to create some great moments.
Zak Brown, McLaren CEO said, I'm delighted to be continuing our partnership with Oscar through to the end of 2026. He's an incredible talent and an asset to the team so it's fantastic to be committing to each other in the long term. Oscar is already proving what he can do out on track and has been instrumental in the turnaround we've had so far this season. He's fitted into the team brilliantly and is really valued by the whole McLaren Racing family. I'm excited to see how he continues to grow both on and off track.
Andrea Stella, Team Principal, said, It's fantastic to confirm that Oscar has signed a multi-year extension with the team. Oscar is an asset to McLaren and constantly impresses with his performance, work ethic and attitude, so it was an easy decision for the team to make. He has already proved pivotal to the team, so it's brilliant to have his vote of confidence as we push to win championships again in the future. I look forward to seeing him develop with us as we continue this journey together.