SEPTEMBER 20, 2023
Alonso's Singapore negativity not a problem
Mike Krack has played down Fernando Alonso's rare negativity in the wake of the Singapore GP weekend.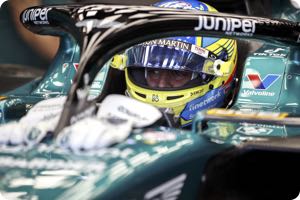 Amid Red Bull's high profile slump on the city-state's floodlit streets, Aston Martin also had a shocker - with Alonso failing to score a point for the first time in 2023.
The 42-year-old Spaniard said his car was undriveable, and believes Aston Martin has fallen badly behind the other teams in terms of the pace of in-season development.
Like Red Bull, he denied the FIA's clampdown on flexible bodywork explains the slump.
For us it has not been a change in anything. We didn't have to change anything, Alonso, 42, repeated.
Singapore was not good for Red Bull obviously or Mercedes in the past when they dominated the championship, so let's see. But I think there are a lot of things to fix in our car.
It was an uncharacteristically pessimistic outlook from Alonso in 2023 following his earlier positivity and string of podium finishes.
But team boss Mike Krack says he isn't concerned about Alonso's state of mind.
We want him to give everything, so there is no problem, he told DAZN Espana.
We've had a couple of bad races, but we've also had some good ones, Krack added. "I think in a 22-race season, and in general in sport, there are ups and downs. It's normal.
"So we have to learn the lesson, take the positives, and move on as soon as possible. But yes, we thought it would be better.
"And as a team, we have to recognise that if a driver is critical, if there is not the performance that he expects and to which he is accustomed, I think it's fine. It's normal that athletes react like that.
So there is no problem, Krack added.
The Aston Martin chief says Alonso carried suspension damage throughout the Singapore GP, but he admitted that the team underperformed overall.
It was a really tough couple of days for the team in Singapore, said Krack. "We were down to one car on Sunday and we hope to see Lance (Stroll) back with us in Japan.
"Now we need to understand where we can find more performance. At the end of the day I think Singapore was a bit of surprise for the whole paddock, because we saw a completely different order, didn't we?
"So I think that's something we have to understand. Obviously there was the resurfacing of the track, the layout of the corners was different, so we have to understand all of that.
But I think there are some fuming heads and not just in our garage, he smiled.
Canadian Stroll, who felt unwell after his high-speed qualifying crash in Singapore, said on social media that he will be back in his green car at Suzuka.
(GMM)