MAY 5, 2016
Kvyat, Verstappen to swap seats for Barcelona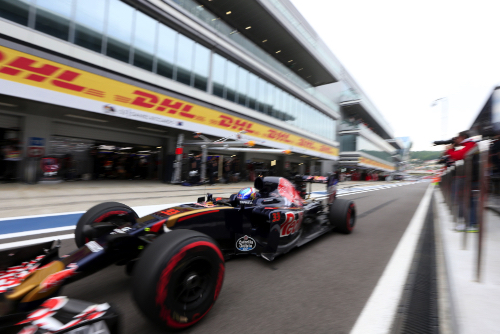 © Active Pictures
Red Bull Racing has ousted Daniil Kvyat and replaced him with Max Verstappen ahead of the Spanish grand prix next weekend.
F1today.net, a Dutch website, had cited 'various sources' in reporting that Russian Kvyat, under fire for his clashes with Sebastian Vettel at Sochi, would swap seats with Toro Rosso's Verstappen.
Red Bull team boss Christian Horner hinted at the move recently, telling PA Sport: "We have a stable of four drivers and two are on loan to Toro Rosso.
"All the drivers are essentially on the same contract and we have the ability at any point in time to move things round should we so wish."
Dr Helmut Marko, in charge of the entire Red Bull driver programme, vowed to talk with Kvyat about the Sochi crash controversy this week, but instead it is believed Verstappen headed to Milton-Keynes for a seat fitting.
The news will surprise many in the racing world, despite the known harshness of Marko's regime.
"I doubt Daniil will be dropped because of only one grand prix," Russian racing driver Ivan Samarin told Izvestia news agency. "I am sure the incident with Vettel will not cost Kvyat his place.
"I think Daniil is not far away from Ricciardo and not much worse than Verstappen. I do hope everything will be alright for Kvyat to continue," he added.
Marko, however, told Tiroler Tageszeitung newspaper that it is important Red Bull Racing continues to push ahead in F1 after a couple of poor seasons.
"Now the engine is more reliable, we can do all the sessions without problems and therefore prepare the chassis properly," said the Austrian.
"We definitely have one of the best drivers in the field (Ricciardo) and so we are confident that with the engine update in Canada we can even fight with Ferrari," he added.
As Thursday's shock news was announced, Horner said: "Dany will be able to continue his development at Toro Rosso, in a team that he is familiar with, giving him the chance to regain his form and show his potential."
(GMM)
Other stories for MAY 5, 2016