MAY 12, 2016
Kvyat: I'll give my answers on the track!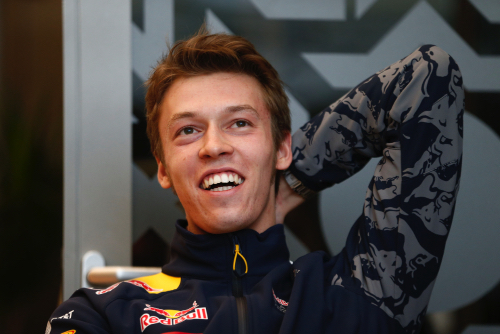 © Active Pictures
By Luis Vasconcelos
Daniil Kvyat was a man in demand on Thursday, as he arrived in the Circuit de Catalunya to rekindle his relationship with Toro Rosso after being abruptly dropped by Red Bull Racing just a day after the Russian Grand Prix. Visibly emotional, the Russian did his best to answer all the questions without ever looking across to Max Verstappen, seated right next to him and admitted that, "the decision was a bit of a shock, but it is what it is. I always gave my maximum, I did as much as possible on the track and I'll try to give my best in the next 17 races."
Kvyat's details about the way the information was given to him provided a bit of hilarity in what was, at best, a tense press conference: "I was watching a TV series, back in Russia, at home, when the phone rang and it was Dr. Marko. The call lasted 20 minutes, because I wanted a lot of explanations and I got a lot of details from Dr. Marko. But I'll keep them to myself. Then I went back to watch Game of Thrones, as I was doing before"
The Russian was quite bullish too, and adamant the decision to demote him to Toro Ross was unjustified: "There was no real explanation, if the bosses want something to happen they just make it happen. In the first instant you think a lot, but then the work started. When I saw the people from Toro Rosso and how positive they were, I took this golden opportunity with them, most of the people are still the same. Once we do a good job there will be more opportunities to come."
"It was not my decision, a lot of things happened, I didn't even start in Australia, some strange things happened in Bahrain, but from China things were getting better. We know that F1 is a very hard sport, we know what we do on the track may be not enough. I've learned quite a bit in the last few days and I'm looking forward to work with Toro Rosso, a team that supports me and we have unfinished business together."
With Verstappen alongside him, trying to look as absent as possible, Kvyat was clearly fired up and said: "Now what's important is to make good work in the remaining 17 races and then let's wait and see. Maybe there will be a lot of thinking from a few people at the end of the year. But first I have to make good work. Luck never brought anything, just hard work. I've always been giving my answers on the track and I think nothing will change. I will try to give as loud an answer as possible on the track!"