JUNE 25, 2003
Jeff Gordon talks about F1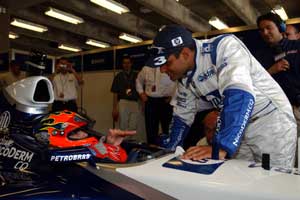 NASCAR Jeff Gordon says that he was offered a vague chance to race in Formula 1 four years ago but that the offer, which came from British American Racing, was to include a two-year period of getting used to open-wheeler racing in the CART series with Team Green, which was also sponsored at the time by British American Tobacco. Having won two NASCAR Winston Cup titles Gordon was not really interested in serving out a new apprenticeship. There were no guarantees that at the end of it he would get a drive alongside Jacques Villeneuve.
"I told the BAR people I was pretty much set here," Gordon said. "I was on my way, I was with the best team with the best sponsors. I had everything I could ask for here. It would have been a major step backward for me to do it that way with no guarantees of where it would get me."
Gordon recently had his first taste of F1 in a Williams-BMW at Indianapolis and impressed the Williams team (not an easy thing to do) and he may find that there are other offers coming his way as a result of his status in the USA and because of his obvious speed and commitment.
Other stories for JUNE 25, 2003