OCTOBER 4, 2016
Italy slams Vettel amid Ferrari crisis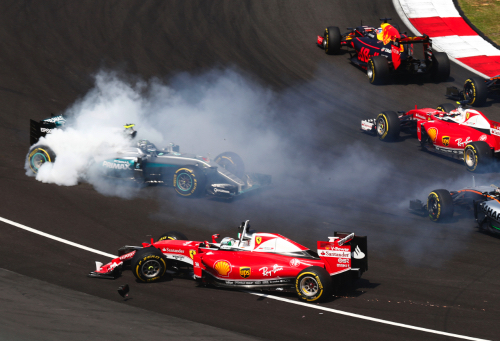 © Active Pictures
The Italian press has slammed Sebastian Vettel after his disastrous Malaysian grand prix, claiming Ferrari's number 1 driver has fallen into "crisis".
As the great Maranello team's progress has faltered in the second half of 2016, German Vettel has appeared under increasing pressure from teammate Kimi Raikkonen.
He was then called an "idiot" and "in crisis" by Max Verstappen and Niki Lauda respectively, after the first corner crash at Sepang that tipped championship leader Nico Rosberg into a spin.
"It is clear now that Ferrari urgently needs a successful driver," Corriere della Sera, a Milan daily, said afterwards.
"The more Red Bull improves, the more unrecognisable Sebastian becomes," it added.
Another daily, La Repubblica, said Vettel was known for his 'number 1' finger gesture and big smile, "but Sebastian is not laughing now".
"Has Maranello sunk the highest paid driver in Ferrari history, or has Vettel lost his talent and speed?" the Roman newspaper wondered.
The specialist Corriere dello Sport, meanwhile, said Vettel's mistake at Sepang was not his only recent faux pas.
"It is sad to see that he does not accept responsibility for his mistakes," it wrote.
La Gazzetta dello Sport was at least splitting the blame, saying that while "Seb is in crisis, it is also Ferrari's fault".
Vettel will have to start this weekend's race at Suzuka three grid places down, with the stewards deeming him responsible for the Rosberg clash.
"I do not want to talk about the stewards' decisions," team boss Maurizio Arrivabene said.
"But of course, in such a tactical race, it is vital that both cars remain on the track."
Former F1 driver Robert Doornbos commented: "It is clear that Vettel is increasingly frustrated at Ferrari, and this (crash) was a consequence of that.
"There is nothing wrong with his talent, but you expect more from a four time world champion.
"Perhaps he is beginning to notice that he cannot just change everything with Ferrari," Doornbos told the Dutch broadcaster Ziggo Sport Totaal. "Alonso did not succeed in five years and Vettel has already achieved less in his second year.
"His old team Red Bull has gone past and Sepang was where he won last year," he added.
However, Ferrari parent Fiat Chrysler top executive John Elkann backed the Maranello team, insisting: "There is much work going on, as everything needs time.
"You need to know how to face difficulties without despair in order to be strong," he is quoted by La Gazzetta dello Sport.
(GMM)
Other stories for OCTOBER 4, 2016