MAY 24, 2023
Honda confirms new Aston Martin deal
Honda will officially return to Formula One with Aston Martin Racing from the start of 2026, the Japanese manufacturer announced on Wednesday in Tokyo.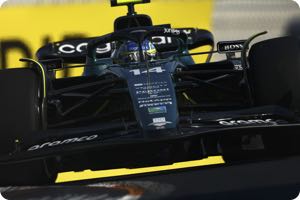 By Luis Vasconcelos
Honda will officially return to Formula One with Aston Martin Racing from the start of 2026, the Japanese manufacturer announced on Wednesday in Tokyo.
Having announced in October of 2020 it would be leaving the sport at the end of the following season, Honda has remained as Red Bull Racing's Power Unit supplier, in what is purely a commercial deal, and will remain with the Austrian's company until the end of 2025.
After that, Red Bull will be running with its own Power Units, in collaboration with Ford, so Honda found a new partner to officially return to Formula One now that is clear the sport is going into the same direction as Honda, in terms of the electrification of the engines and the use of carbon neutral fuels from the start of 2026.
Speaking to a restricted number of media outlets, including Chunichi Sports, before the announcement, Honda Racing Corporation President, Koji Watabane, stated that, "Honda has decided to participate in Formula 1 as a power unit supplier starting from the 2026 season, and has agreed on a works partnership with Aston Martin Aramco Cognizant Formula 1 Team."
Watabane-san then explained that, "In pursuit of its goal of achieving carbon neutrality by 2030, starting in the 2026 season, the FIA will mandate the use of 100% carbon neutral fuel, and the deployment of electrical power will be increased significantly by three times from the current regulations. With this massive increase in the electrical power, the key to winning in the new F1 will be a compact, lightweight and high power motor with the high performance battery that is capable of swiftly handling high power output, as well as the energy management technology."
"We believe that the technology and know-how gained from this new challenge has the potential to be applied directly to our future mass production electric vehicles. Also, F1 is introducing a cost cap structure on power unit development, which will make a long-term and continuous participation in F1 easier."
He then added that, "starting in the 2026 season, various auto makers are planning to enter F1, which we expect will further intensify the competition. Moreover, we will make changes to our F1 project's structure for the 2026 season. HRC is Honda's 100% subsidiary in charge of motorsports technology development and race management, of both motorcycle and automobile racing. HRC will lead Honda's F1 activities, and establish a cycle where all F1 related technology and expertise are aggregated and accumulated and steadily utilized for the next race."
The decision to join forces with Aston Martin, was, according to Koji Watanabe, a logical one, given the similarities between the two team's spirit and goals: "The Aston Martin Formula 1 team and Honda share the same spirit, and together, we will take on this new challenge. In this project, HRC will design, develop and manufacture the power unit optimized for Aston Martin's F1 chassis configuration, and supply it to them. And Aston Martin F1 team will design, develop and manufacture the chassis, as well as handling the team management."
"Aston Martin F1 is a team with a lot of momentum, including a construction of a new factory, and they are currently working on various measures to strengthen the team to strive for winning the F1 championship title. As they have given the high marks to our F1 power unit technology, and we can relate to the AMR attitude, and also a strong passion to win, we decided to work together and strive for the championship title as Aston Martin Honda."
Speaking on behalf of Aston Martin Racing, Group CEO Martin Whitmarsh, was delighted with the announcement, having been fundamental for the set-up of the McLaren-Honda deal in 2014, although he was no longer working for the British team when the two companies started their on-track cooperation: "I'm very excited to be talking to you from Tokyo about our future partnership with Honda. Aston Martin is building a team to win in Formula 1. Over the last 18 months, I think we have been recruiting the right people, we have been investing in the required facilities and developing the right culture and processes to win. We know we need strong partnerships. We've been previously delighted to be joined by Cognizant and Aramco. Today, it's a great opportunity to partner a global motorsport titan like Honda as a works team. This is an extremely exciting and important further step for the team. Both organisations share the same mutual drive, determination, and relentless ambition to succeed on track."
"We've seen Honda over many tears achieve great success. We are still building. We are very proud, very grateful, very honoured to put in place this partnership. It's clear to us and to Honda that the 2026 F1 regulations will require the full integration of chassis and PU that only a full works team relationship delivers. To have this partnership puts us in a position to compete for championships. It's clear from everything we've seen from Honda in the past, from our recent learnings, from being in conversation the last few weeks."
"They have a huge passion, they are racers, they want to win. That's what they are in this sport to do. And that's fantastic because that's exactly our goal. We have a lot to learn from Honda, who have been successful over many, many decades in this sport. We are already confident this is going to be a fantastic partnership for the future. So we look forward to it."
In the next couple of months it will become clear how much resources HRC will have to recover the time lost to a competition that never stopped developing their Power Units for 2026 while the Japanese manufacturer kept just a skeleton of the motor sports technical team still working on this project following the homologation of the 2022-2025 Power Units in March of last year.