SEPTEMBER 25, 2023
Furious Gasly publicly disagrees with Alpine
Pierre Gasly very publicly dissented from Alpine team management's decision to instruct him to give up a place and a championship point at Suzuka.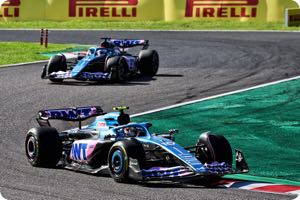 Earlier at the Japanese GP, the team's new-in-2023 recruit, fresh from escaping Red Bull's driver program, insisted that despite a past spat with fellow Frenchman Esteban Ocon, the pair are actually getting on well at Alpine.
There have been no problems whatsoever since the start of the year, Gasly, 27, told Agence France-Presse.
"We are very professional in our approach because we know that we need to work together to make the team progress and to try to have the best car possible.
For everyone, the desire is to work hard to eventually fight for victories.
But that harmony was put to the test in the closing moments of Sunday's Japanese GP when Gasly was instructed to pull over on the last corner of the last lap to let Ocon pass him for ninth place.
Gasly called it a joke and was seen wildly gesticulating from the cockpit in apparent rage.
They told me that if they decided to do the undercut with Esteban to help him during his race, we would swap positions, he later told Canal Plus.
On the last lap, I was asked to swap again. But I started in front, I had a better qualifying, my tyres were fresher at the end. For the rest, we will discuss it internally, Gasly insisted.
He continued, however, that he cannot understand the team's decision.
For the team, whether we are ninth and tenth or tenth and ninth is the same thing, said Gasly. And we never discussed this before the race.
For his part, however, Ocon said the team order made sense.
Towards the end of the race we looked to capitalise on our tyre advantage and Pierre's pace by aiming for eighth place, he said.
But in the end, we ran out of laps and pace and made the decision to swap the drivers around. Making these calls is never easy, but they are always made in the best interest of the team first and foremost.
As for Gasly, he said the Renault-owned team has bigger priorities.
It is certain that we are lacking compared to the top teams, he said. There is McLaren in front of us, Mercedes, Ferrari, Aston. We have to find performance to fight for bigger points.
(GMM)