MARCH 28, 2002
Formula 1 arrives in Brazil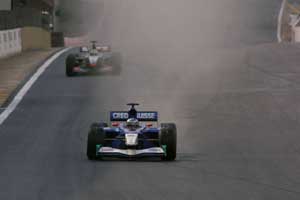 © The Cahier Archive
THE recent crime wave in Brazil, about which we reported some months ago, has woken up even the most blinkered of Formula 1 individuals and the teams have been warned to be careful to avoid robberies and kidnappings. Team personnel have been warned to avoid wearing team gear away from the circuit because of a series of incidents last year. While no-one wants to upset the Brazilians by making a fuss about crime there is no doubt - and FIA President Max Mosley admitted as much recently - that the FIA and FOM make allowances when considering the race in Brazil - for the simple reasons that it is (at the moment) the only surviving race in South America - which is a major F1 market. The recent economic problems have also affected coverage of the sport in South America and so no-one wants to make a lot of noise about the drawbacks of Brazil.
It is worth noting that last year there were a series of robberies from the Formula 1 garages, including seven computers from Jaguar Racing and wheel rims from Minardi. In addition, Minardi team manager Tony Lees was robbed at gunpoint in Sao Paulo. There were several other reports of attempted robberies on F1 personnel.
The Brazilians recently agreed a new deal for the Grand Prix until 2006 and there is a new management in place this year.
Other stories for MARCH 28, 2002