JANUARY 22, 2015
Force India shows 2015 chassis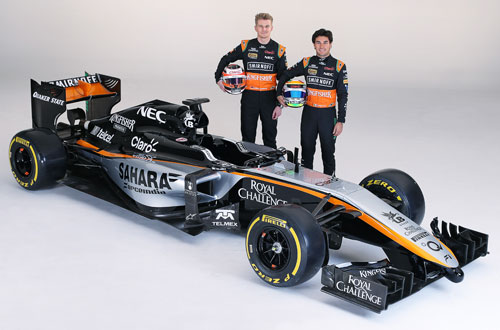 Force India has become the next F1 team to unveil its new look for the 2015 season.
Some had expected that, at an event in Mexico City on Wednesday, the Silverstone based team would reveal its new car, the VJM08.
In fact, Force India will not begin to test its new machine until the second official test in Barcelona, meaning that in Mexico the car displayed was a show-car with a 2015-style nose.
As also demonstrated by Williams this week, the FIA's nose rules tweaks will have an effect on the shape of the 2015 grid, as the unseemly anteater-style solutions depart.
Lotus, however, has poked fun at the stubbly Williams solution, humorously comparing the FW37 to small animals with their tongues poking out in a cheeky Twitter post.
The new Force India nose also has a stubbly protrusion, but not even close to the scale of the much-derided front-end solution raced throughout 2014.
Also of note is a new livery for the Vijay Mallya-led team, featuring the prominent addition of the colour silver and the addition of the 2014 Sauber sponsor NEC.
"I love the addition of silver," said Mallya, "which makes the car appear more sleek and aggressive and I'm sure it's something that will appeal to the fans as well."
(GMM)
Other stories for JANUARY 22, 2015