SEPTEMBER 2, 2019
Ferrari team orders worked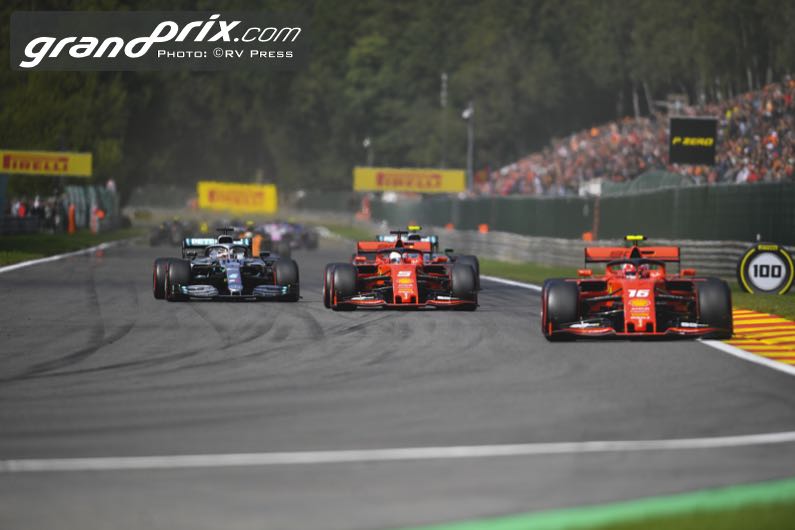 © RV Press
By Dan Knutson in Spa-Francorchamps
Usually in the past seasons since Sebastian Vettel joined Ferrari in 2014, he has been the one to get the benefit of team orders. From 2014 to 2018 it was often Kimi Raikkonen who had to move over and let Vettel go past. This year it has been Charles Leclerc.
But in the Belgian Grand Prix the Ferrari team told Vettel to let Leclerc take the lead.
Vettel pitted for tires on lap 15 of 44, which was much earlier than the other front runners. Leclerc stopped at the end of lap 21. Mercedes drivers Lewis Hamilton and Valtteri Bottas pitted after laps 22 and 23.
As a result, all three drivers had newer tires than Vettel. To make the situation worse, Vettel was suffering from much higher tire degradation than Leclerc, Bottas or Hamilton.
Vettel took the lead on lap 23. But on lap 27 the Ferrari team ordered Vettel to let Leclerc go ahead. The Ferrari team was worried that Vettel's slow pace would eventually give the race victory to Mercedes.
And Ferrari was correct because Leclerc only won by 0.981 of a second over Hamilton, so if Leclerc had been delayed any longer behind Vettel it could have meant Ferrari lost the race.
After the race at Spa, Ferrari team principal Mattia Binotto explained the situation.
"At the start of the season when we tried (team orders) it was not always very well accepted from the outside," he said. "Since the very start of the season we have always said that the first priority is the team and the team points. So race by race we have normally discussed with the drivers what may be the situation, and it something I discussed with both of them in the morning.
"And not doubt that after a few races things become more straightforward, even when discussing with the drivers and the drivers somehow understanding it. It is never an easy call, I have to say, because drivers are in the car to drive as fast as they can and somehow to do as much as they can for themselves.
"But at first I think there were not many choices today. We had to anticipate Seb's pit to protect himself from the Mercedes otherwise Hamilton would have stopped and would have undercut. Second because staying out longer somehow put Charles in a better position with tires.
"Seb was certainly faster at that stage and he would overtake him at some stage simply because of the different strategy. So they were on different strategy and early on we thought we were losing time and that would not be the best thing for the team on that occasion."
Other stories for SEPTEMBER 2, 2019