APRIL 11, 2015
Ferrari plays down title hopes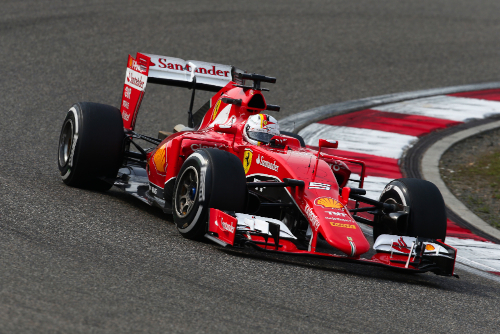 © Active Pictures
Ferrari's technical boss has played down hopes the fabled Maranello marque might already be ready to charge for the title.
Sebastian Vettel won in Malaysia, is just three points behind Mercedes' championship leader Lewis Hamilton, and teammate Kimi Raikkonen was second fastest in China on Friday.
"That was very surprising," 1997 world champion Jacques Villeneuve told Sky Italia. "Ferrari seems to have continued where it left in Malaysia, even without the heat."
But Briton James Allison, the man widely credited with putting Ferrari back on track after a tumultuous period, is trying to keep expectations low for now.
"Mercedes have a bit more horse power than us," he said in China, "and a bit more downforce than us.
"Until we've closed those two gaps it's not realistic to talk about title challenges," Allison insisted.
So although Vettel has already won a grand prix after just two races in 2015, Allison said the pre-season objective of "a couple of wins" is still more realistic.
German Vettel is also kicking a low ball for now.
"We are only in the third race," he is quoted by France's L'Equipe, when asked if Ferrari has proved it is back where it belongs at the front of F1.
"Let's be patient. Our first goal is to be first after the Mercedes. That was the case today (Friday)," Vettel added.
(GMM)
Other stories for APRIL 11, 2015