Chinese GP 2015
APRIL 11, 2015
Practice 3 Report - Pole Bound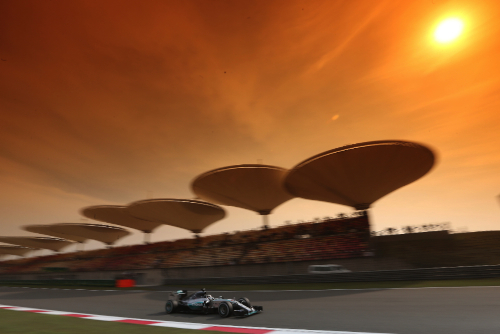 © Active Pictures
After setting the fastest lap times in the all three free practice sessions, Lewis Hamilton looks bound to win the pole in Mercedes in qualifying for the Chinese Grand Prix.
The ambient temperature at the start of the session was 63 degrees Fahrenheit (17 degrees Centigrade) and the track temperature was 108 degrees Fahrenheit (42 degrees Centigrade).
The line-up for the weekend was: Mercedes - Lewis Hamilton and Nico Rosberg. Red Bull Renault - Daniel Ricciardo and Daniil Kvyat. Williams Mercedes - Felipe Massa and Valtteri Bottas. Ferrari - Sebastian Vettel and Kimi Raikkonen. McLaren Honda - Kevin Magnussen and Jenson Button. Force India Mercedes - Nico Hulkenberg and Sergio Perez. Toro Rosso Renault - Max Verstappen and Carlos Sainz. Lotus Mercedes - Romain Grosjean and Pastor Maldonado. Marussia Ferrari - Will Stevens and Roberto Merhi. Sauber - Marcus Ericsson and Felipe Nasr.
Stevens and Vettel were the first out. Shortly thereafter Alonso's car ground to a halt.
Ericcson set the first time of FP3 - 1:42.174. His teammate Nasr shaved 0.030 of a second off of that time.
Once the quick guys got going, Rosberg topped the charts with a time of 1:40.055 while Vettel was second with a 1:40.713.
20 minutes into the session, Hamilton popped in a 1:39.776.
23 minutes into the session, Massa said he had smoke in the cockpit, and he headed for the pits.
Midway through FP3 the top six were: Hamilton, Rosberg, Vettel, Raikkonen, Massa and Kvyat.
It didn't take long to fix Massa's car and he was soon out the track again.
With 16 minutes remaining in the session, Kvyat had a go on the soft Pirelli tires and moved into first with a 1:39.106.
With 14 minutes remaining in the session, Rosberg slammed in a 1:37.841.
With 13 minutes remaining in the session, Hamilton was out there on the softs. His time of 1:37.615 was the fastest of the day so far.
The Red Bull teammates Ricciardo and Kvyat moved into third and fourth. But then with 10 laps to go, Vettel and Raikkonen pushed them down to fifth and sixth.
The top 10 at the end of FP3 were: Hamilton, Rosberg, Vettel, Raikkonen, Ricciardo, Kvyat, Sainz, Bottas, Verstappen and Grosjean.