MARCH 31, 2023
F1 capable of 30-plus races per season says Domenicali
Formula 1 is capable of organising more than 30 grands prix per season, according to CEO Stefano Domenicali.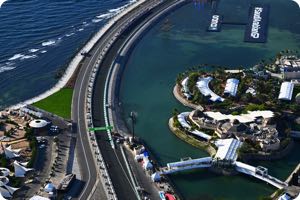 Formula 1 is capable of organising more than 30 grands prix per season, according to CEO Stefano Domenicali.
Currently, there are 23 races - more than ever before - with plans for 24 next year thanks to China's expected return.
But Domenicali admits that demand from potential promoters is through the roof.
"We are in push mode with everything," he is quoted by Marca sports newspaper in Melbourne.
"We are living a wonderful moment with enormous attention around the world and diversity, women, girls watching races, everything."
The former Ferrari team boss admits it's a long way from the days when his predecessor Bernie Ecclestone was in charge.
"Let's be fair," said Domenicali. "Bernie invented Formula 1, which all of us who now run this business should always remember.
"But it is a different sport now. The world of entertainment and the context of Formula 1 have changed."
Some 'purists' are worried that F1's continuing expansion will threaten some of the most historic races - like Monaco, Monza, Silverstone, Spa and others.
"Let's see," Domenicali insisted. "What we want are different grands prix from each other, with each one offering a different experience connecting the past with the future."
The calendar is limited by regulation to a maximum of 25 grands prix per season, but Domenicali admitted that F1 could actually accommodate many more.
"Remember that not long ago we were at 15 and it was difficult to think of 17," said the Italian. "Now we are at a time when we could do 30 and even more, and we have requests for that.
"But we want to keep to 23 or 24 because we believe it is the right balance between demand and supply. But this happens only because F1 is growing, there is interest and there is attention."
Finally, Domenicali revealed that amid reports that three or four prospective new teams are interested in joining the sport, no decisions have yet been taken.
"Today we have 10, our rules allow for a maximum of 12," he said.
Domenicali insists he hasn't "heard anything" about Craig Pollock's newly-revealed 'Formula Equal' idea.
"We have to ask is a new team beneficial to the sport? Is it strong and robust enough to ensure it is a continual presence? If the answer is positive, we are going to add some more teams," he added.
"Without a good option, there will be no other teams."
(GMM)