SEPTEMBER 28, 2001
F1 and the world crisis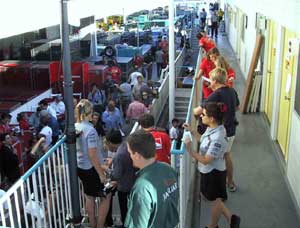 ONE of the major worries of F1 people in recent days has been that the people and equipment may become stranded in the United States of America if military action begins in response to the September 11 attacks on New York and Washington. These fears have been lessened somewhat by reports in USA Today that American and British special forces are already operating inside Afghanistan, hunting for terrorist Osama bin Laden. There has been a considerable amount of public pressure on President George W Bush for a reaction and F1 teams were concerned that an overt military strike would result in the widespread cancellation of flights which might leave F1 personnel and equipment unable to get from the United States to Japan.
In recent days there have been some photographs published showing Williams cars in the late 1970s which featured sponsorship from the Bin Laden quarrying and construction business, which is owned by the family, which long ago disowned the world's most wanted terrorist.
One of the drivers at the time was Australia's Alan Jones, who told Melbourne's Age newspaper that in that era he "met a lot of Saudis and got to know a lot of princes, too, but if I had have known he was involved and that he was going to become the monster he is, I might have arranged to run over him in the pits."
Other stories for SEPTEMBER 28, 2001