OCTOBER 6, 2017
Drivers confident of Ferrari turbo fix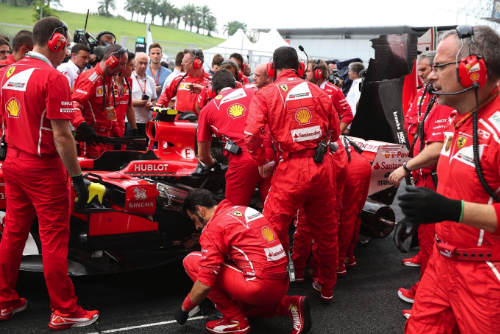 © RV Press
Ferrari's drivers say the team has fixed a technical problem that ruined their weekend in Malaysia.
The Italian team looked strongest overall at Sepang, but Sebastian Vettel was left last in qualifying with a turbo problem that seemed to repeat itself on Kimi Raikkonen's failed car on the grid.
Reports said the problem was a carbon tube, with the power units all returned to Maranello between Malaysia and Japan for a fix.
"I think we have a good understanding of what happened," German Vettel said, insisting he still has a chance of beating Lewis Hamilton to the championship.
"It has only been a couple of days but some parts went back and I'm pretty sure it shouldn't be an issue here," he added.
Raikkonen agreed: "We fixed the problem, but no one can guarantee that it won't happen again."
Also at Maranello, Ferrari repaired superficial damage to Vettel's gearbox, following his bizarre post-race crash at Sepang with Lance Stroll.
Vettel admitted he is relieved he will not take a penalty.
"We will only find out after we put the gearbox on the car on Saturday, but judging from what I heard, everything should be fine," he said.
However, a slightly more panicked reaction to Sepang had reportedly been made by president Sergio Marchionne, who hinted that organisational changes would occur.
"I heard about it," Vettel said. "Or I read it in the press. I'm not sure if his words were taken out of context.
"I know what is going on inside the team," he added. "There is no panic -- no emotional reaction to what happened. As far as I know, no big changes are planned."
(GMM)
Other stories for OCTOBER 6, 2017