JULY 6, 2015
Did team orders cost Williams the win?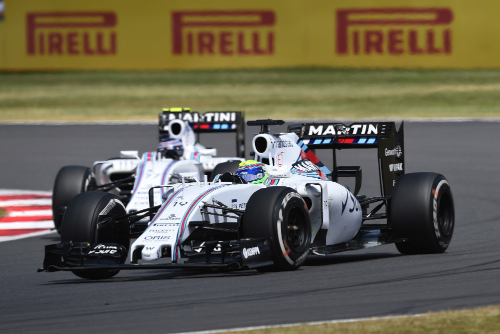 © Active Pictures
After launching off the grid and into the lead, Williams was left to rue an opportunity lost in Sunday's British grand prix.
Part of the reason the Silverstone race was so exciting was because Felipe Massa and Valtteri Bottas got a surprise jump on the two Mercedes at the start.
But then came the 'team orders'.
Williams told the charging Bottas to hold station rather than attack Massa's leading car, even though some believe the Finn would have raced into the distance had he been free to do so.
"At the beginning I had good pace," Bottas told the Finnish broadcaster MTV3, "and at one point I would have been able to get past (Massa) but the team told me not to."
Ultimately, through the pitstops and the inclement weather, the white-clad pair finished not only behind the two Mercedes but even Ferrari's Sebastian Vettel.
Bottas thinks the team may have made a clear tactical mistake.
"We will have to look at whether we should have made different decisions," he said. "I don't want to criticise team decisions as I guess there was a reason for it. I just don't know what," he added.
Bottas, 25, clarified to Turun Sanomat newspaper that he did not want Massa to receive a 'team order' to move over.
"That is not racing," he said. "But it would have been nice to be able to overtake him when I had the opportunity."
Pat Symonds, Williams' highly experienced technical chief, said the early instruction was given to Bottas to "make sure we didn't slow each other down".
"Valtteri felt faster, and maybe he was," the Briton acknowledged.
Bottas admitted: "I can see why the team wanted us to avoid fighting each other at that moment. We were in a strong position and fighting could have cost us time. That's what they thought.
"For me it was disappointing, but of course it is easy to say that afterwards," he added.
Team deputy Claire Williams agreed that hindsight is always perfect.
"It is easy to look at the race afterwards and say what you would do differently," she said. "We did what we thought would be best for the team.
"The guys on the pitwall are not sitting there thinking about how to destroy races."
As for what might have happened if Bottas had been freed, Williams added: "I don't know. What you do have to say is that the Mercedes is a great car that at the moment is faster than ours."
(GMM)
Other stories for JULY 6, 2015