British GP 2015
JULY 6, 2015
Race Report - Unpredictably predictable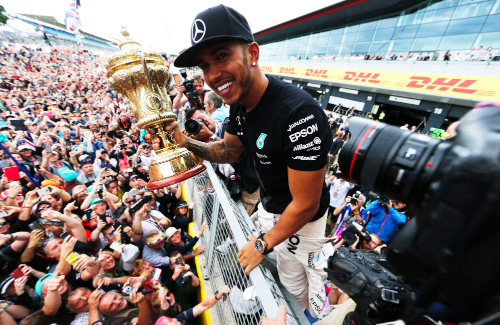 © Active Pictures
BY DAN KNUTSON IN SILVERSTONE
Look at the results and the British Grand Prix was just another predictable race in the 2015 season. Mercedes teammates Lewis Hamilton and Nico Rosberg first and second; Ferrari's Sebastian Vettel third.
But it did not start out that way as Williams teammates Felipe Massa and Valtteri Bottas surged past pole sitter Hamilton and ran first and second with Hamilton and Rosberg in hot pursuit.
"My clutch was good; it's just that we had really quite poor grip at the start," Hamilton said. "I think it was particularly the same for Nico. It made the race even more exciting to be honest. We just kept pushing and if I'm honest that probably made it more exciting for the fans."
The pit stops for the foursome to change from Pirelli's medium compound tires to the hard compound tires came between laps 19 and 21. When they were over, Hamilton was in the lead, Massa second, Bottas third and Rosberg fourth.
That very well may have been the finishing order when the checkered flag flew at the end of lap 52, but with about 10 laps to go it started to rain on and off at some points of the circuit. The tricky part now was deciding when to pit.
Hamilton came in at the end of lap 43 and it proved to be the perfect choice.
"The rain came and I think I just lost temperature in my front tires," he said. "It's always trickier for the guy who's out in the lead because you're the first one to get to it and it's questionable how much risk you take. But yeah, for the first time actually, I think the first time in my whole Formula 1 career, I made the perfectly right choice in coming in now. I could see the rain coming more and I've never had that before, so I feel extremely happy about that.
"And after that I was going around. At Turn 7 and the last corner I could see in the crowd just cheering me on every time I came by and just spurring me along. I just didn't want to drop it for them. And really I'm also very honored just to be here representing the Brits, to have the British flag up there."
Rosberg pitted one lap later.
"I was very thankful when the rain came," he said. "I felt great when it started raining. I really was able to attack and pass both Williams and close in on Lewis a lot. I was hoping it would stay more or less like that, and I thought I could attack Lewis at some point - and then Lewis boxed. I was pretty sure it was the wrong call because it was still touch-and-go at that time.
"So I was actually quite happy that he boxed. But then it was the right call in the end. It started raining more on that lap. So, that was it. Anyways, I had to take that chance because just following Lewis into the box is definite lose for me, so I might as well take the chance, stay out and do one lap more at least. It didn't work out. So that's it. Gave it everything and didn't work out."
It didn't work out for the win, but Rosberg did move from fourth to second while the Williams drivers floundered. That gave Vettel the opportunity to go from fifth to third.
"I had a really bad start," Vettel said. "I nearly didn't get off the line and lost positions (going from fifth to eighth.) At the restart I made up a position, but I lost two as a consequence. It didn't seem to come together at this point, a bit like the whole weekend for us, but then we were able to turn it around. We recovered through strategy, mostly by being very aggressive.
"I was in touch with the team all the time; it was not easy to take the right decision with the weather. But we did a great call to pit just in the perfect lap, made up a lot of ground and finished on the podium. I'm sorry for the people that got wet, but the rain helped us today!"
Massa and Bottas ended up fifth and sixth.
"It is a frustrating result because the race was amazing today," Massa lamented. "I had a fantastic start and we were fighting with Mercedes the whole time, it could even have been possible to win the race if it had stayed dry, which is great to see. It was a shame to lost positions in the rain. We waited one lap longer on the second stop which is where we lost the opportunity to be on the podium. That shower also highlighted the car's weakness in the wet."
Bottas was actually quicker than Massa in the opening stint but could not get by him.
"In some ways it was an incredibly frustrating race," Bottas said, "and others it was very pleasing. Both cars had great starts and we raced the Mercedes with genuine pace, but when the rain came I really struggled with the intermediate tire. I was allowed to race Felipe, but it was hard to get through, and I didn't want to make any mistakes. We have to have a look the race data and make sure we continue to learn from this."
At least they finished. Lotus teammates Romain Grosjean and Pastor Maldonado were shoved out of the race during a first lap accident that also eliminated McLaren's Jenson Button. It started when Daniel Ricciardo's Red Bull tagged Grosjean's car.
"Daniel must have thought his brakes and tires would be able to slow him better than they did," Grosjean said, "and the result was the end of both my and Pastor's race."
Fernando Alonso tried to steer his McLaren clear of the mess.
"I think he lost the rear of his car and hit the rear of my car," Button said. "My car jumped quite high and when I landed all systems shut down. The impact turned the engine off, so I had to stop. I was alongside Fernando and didn't realize he wasn't spinning but, anyway, there was no way I could have done anything else."
Alonso said the Lotus drivers were at fault.
"We had some problems right from the first corner with the two Lotuses that were fighting among themselves in a very aggressive way," Alonso said. "In the end that caused the two McLaren to also make contact but I was more fortunate than Jenson because he had to retire on the spot while I could carry on."
While Ricciardo would later retire with electrical woes, his teammate Daniil Kvyat finished sixth.
"We were really competitive today," Kvyat said. "The race was really fun, a little crazy with the rain, and I was enjoying myself. The team has done a great job and the car is handling really well."
Nico Hulkenberg wound up seventh in the updated Force India while his teammate Sergio Perez took ninth.
"That was an entertaining afternoon and it's great to come away from our home race with a good bunch of points," said Hulkenberg. "My start was sensational - maybe the best I ever had in Formula 1 - and I rocketed up to fifth place ahead of the two Ferraris. I was able to keep them behind me for the first stint, but they had too much pace and were able to use the strategy to jump us by pitting early.
"When the rain arrived at the end of the race the track was very slippery. I was a bit unfortunate with the timing because I had just passed the pit lane entry when the rain became really heavy and I had to do a full lap before I could change to intermediates."
Perez said he could have been even higher up, but the strategy didn't really work out in his favor.
"After my first stop, I lost a position to (Carlos) Sainz and I spent a few laps stuck behind him when my tires were at their best." Perez related. "I was in the dirty air and struggling with the front tires, which had a lot of graining. When the second rain shower came we had a lot of discussions over the radio about what call to make and unfortunately we waited too long, which cost us a place."
Kimi Raikkonen pitted too early to switch from dry tires to the intermediate wet tires and ended up eighth.
"In the early part of the race we were stuck behind Hulkenberg's Force India," he said. "They were too fast on the straight and in the places you could pass, while we lacked some speed. It's a pity because the handling of the car was good through the whole race and the behavior was definitely better than yesterday.
"When it started raining heavily, the track became very slippery, especially in Turns 7 and 8; so I took the decision to come in the pits for Intermediate, but then the rain stopped. Probably I made the call three or four laps too early. But in general, this kind of track is not ideal for us, and this is something we have to work on."
Rounding out the top 10 was Alonso who scored his first point of the season.
"I think the race was fun at the front," he said, "because I could see on the big screens the Williams were leading with the Mercedes close behind but for me it was a lonely race and not fun at all."
Marcus Ericsson (Sauber) and Marussia teammates Roberto Merhi and Will Stevens were the only other classified finishers.
The guy who was classed in the number one spot was thrilled.
"It's very, very special weekend for me," Hamilton said. "To see so many fans out this weekend, I thought that I'd seen it all here last year. I love those guys - thank you so much for coming. An amazing job done by the team back at the factory, such a large group of people, to make the car that me and Nico have to race as we have. The race was very, very tough. Very slippery off the start, I think for both of us - but it made it more exciting."