SEPTEMBER 22, 2023
Aston Martin must improve development speed says Alonso
Fernando Alonso has denied feeling frustrated at Aston Martin's lagging progress following a stellar start to 2023.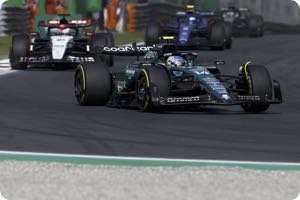 After initially looking like Red Bull's closest challenger this season, the Silverstone based team began to dip as more established rivals improved their cars.
Singapore was a particularly bad weekend for Aston Martin, but Alonso arrived in Japan feeling more confident after it emerged that his car had suffered suspension damage.
The bigger issue, the Spaniard now insists, is improving the team's ability to keep up with the in-season development race.
At the beginning of the year we had a fast car, said the 42-year-old, "but we always said that it would be difficult to keep up with our main opponents during the year.
Because these are large organisations and top teams, Alonso added. "So it was to be expected that Ferrari and Mercedes would catch up and overtake us. And now McLaren is also very strong.
We have to accept that we have to make improvements in the way we develop.
However, he denied losing his cool after the tough race in the Singapore heat.
I'm not frustrated at all, the two-time champion said at Suzuka. "I'm very happy with the project and even in the difficult races like Singapore or Monza, all of our meetings are very productive.
The team's motivation to become a leading team, the resources and the determination are extraordinary, so I am very happy, Alonso insists. "But we have to accept that everyone here has a very high level.
"All the teams have great designers, wind tunnels, all that kind of stuff. Our pace of development has to be a little faster next year, but this is a very new team. It's a new situation for us.
"It's not that we accept it and we are ok with it. We just know that it's a season of learning.
And honestly, I've never seen this kind of scale in terms of ideas and solutions on the table. The motivation the team has to become a top team is just exceptional. I'm very happy, said the former Ferrari driver.
Right now we are in a low moment, but it's something where you need to find your feet on the ground.
(GMM)