MARCH 18, 2012
Analysis: Mercedes 'F-duct' causes controversy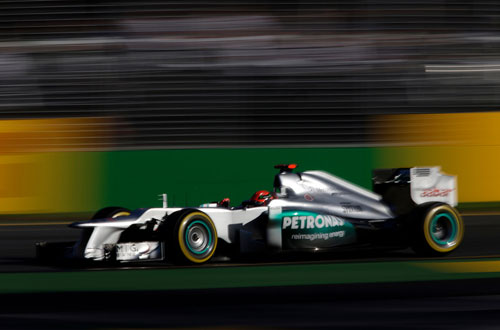 © The Cahier Archive
BY TONY DODGINS
A novel 'F-duct' system, utilising the DRS activation mechanism on the Mercedes W03 and designed to give the car a straightline speed advantage, is causing controversy at the season-opening Australian GP.
Both Red Bull Racing and Lotus do not believe that the system is legal and unsuccessfully lobbied the FIA's Charlie Whiting towards reaching the same conclusion. Mercedes team principal Ross Brawn, however, explained that he had informed the governing body he was developing the system and that it was checked by Whiting and technical delegate Jo Bauer on Wednesday in Australia.
There was divided opinion up and down the pitlane about what precisely Mercedes was trying to achieve. Moveable aerodynamic devices are prohibited outside of the DRS rear wing, but it is believed that what Mercedes is doing is utilising a hole in the rear wing endplate, which is exposed when the DRS wing is activated. Air is then channeled to the front wing, stalling that and achieving greater speed on the straight.
"Innovation is the life-blood of F1," was a much-repeated mantra from Brawn during the Melbourne weekend, who explained that the magnitude of effect was nothing like that of the double diffuser or exhaust blown diffusers of recent years. By its nature, the system also affords a bigger effect in qualifying, when DRS can be used all the time. In the race, it can only be activated in specific DRS zones.
A rumoured post-qualifying protest from Lotus did not materialise and McLaren's Martin Whitmarsh expressed the view that the system is legal.
"We're looking at some of these ideas and you'd imagine they'd feature on cars as the year progresses," the McLaren team principal said. "I think it complies. There is an exception for the DRS device and they have been able to use that. We've got a reasonable understanding of the system and you have to make sure you don't compromise the underlying aerodynamic performance of those parts."
Brawn says he is not concerned about a potential re-interpretion of the regulations.
"Obviously we kept the FIA informed about what we were doing, they checked the system on Wednesday and were completely happy with it. Other teams aren't so happy and are seeking clarification.
"If there is clarification to the point where the FIA is not happy, then we will change our position. If they are happy with it we will continue to use it. We're happy with it.
"There were stories about protests but I think that would be very unfortunate. A protest after qualifying or race is not very pleasant because it can be done on a Thursday or Friday when it's less critical and the system can be turned off. I hope it doesn't deteriorate into that but it's a new and novel system and we will have to see."
Brawn claimed that the controversy has removed the spotlight from exhaust exits and exhaust-blown diffusers, which he feels are entirely more significant. 0
"Exhaust systems that people have are nowhere near what was intended by the FIA," he said. "They probably told you all that we were not going to have exhaust blown diffusers anymore. We thought we weren't going to have them, and several cars have got them. But if someone can see a clever interpretation, that's the nature of Formula 1. We are looking at the exhaust systems to see if they can be of benefit to us. I suspect they will disappear next year."
Brawn would not be drawn into whether his 'F-duct' is easy to copy.
"To answer that I'd have to go into detail and I don't want to," he smiled. "But you have to remember that whatever it is, it's something that happens when we have the drag reduction system on and when you don't have that, nothing's happening, so it's only for those periods that it's an advantage. When you're in the race and you're not using the DRS in normal racing, it can't have any effect. It has a benefit but only in a narrow window of time."
Other stories for MARCH 18, 2012