APRIL 23, 2012
Alonso says Ferrari needs to do a proper job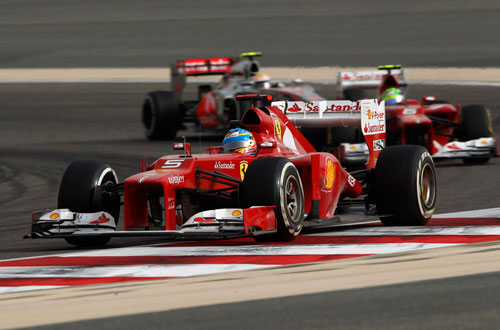 © Active Pictures
After taking 35 points from the first two races of the season and leading the championship, the eight points Fernando Alonso scored in China and Bahrain are more reflective of the Ferrari F2012's level of competitiveness. He gave his thoughts post-Bahrain, where he finished seventh:
Q: How did you view the car's race performance?
I had mixed feelings. On one side we were in front of both McLarens at the end, which is something we didn't expect after qualifying, but on the other side we were 57 seconds behind the winner. That is a bigger gap than at any other 2012 race.
I was happy with the points, we maximised that again, and it's a case of damage limitation with our package at the moment. It's not good enough to fight for anything more and we are in this position because of the mixed results we see every weekend. One time it's McLaren, we got the win in Malaysia, then it's Mercedes, then Red Bull and this is helping us in terms of points in the championship. But what we must do is improve the package so that we are not depending on the results of others. We need to do a proper job that at the moment we are not doing.
Q: Did saving three sets of new tyres bring the benefit you expected?
Without the new sets probably we were not able to do the laps we did, so it was good to save the tyres. But, in the other races so far the medium tyre was better in race pace than the soft tyre. This time we also tried one stint with new soft tyres and it was the same, maybe a bit better at the beginning, so to save the new mediums was an advantage but maybe not as big as at other races.
Q: You seemed to have a bit of a moment towing Kamui when he pitted?
I saw Kamui was going in and I thought that for 100 or 200 metres I could tow him and then I activate the DRS so that I'd gain a couple of tenths on the lap. Unfortunately there was so much dust that it was a surprise! When I arrived at Turn 1, what I'd won on the straight in terms of lap time, I lost in Turn 1 with the tyres not in good condition. It was not a good moment!
Other stories for APRIL 23, 2012