Bahrain GP 2012
APRIL 23, 2012
Race Report - Vettel and Red Bull back on form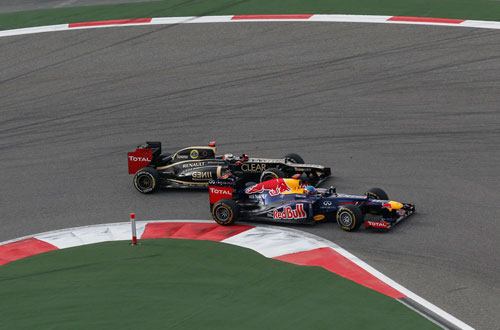 © Active Pictures
Sebastian Vettel made it four different winners in as many 2012 grands prix as he led the Bahrain GP from start to finish. The win takes him to the top of the world championship table, four points clear of Lewis Hamilton as McLaren endured a difficult afternoon with Hamilton's eighth place the team's only score.
This was not a 2011-spec Vettel victory. He was pushed hard by Lotus Renault and Kimi Raikkonen in particular. Both adopted a three-stop strategy but Raikkonen, who saved tyres in qualifying and started 11th, caught the Red Bull by the end of the race's third stint.
Raikkonen admitted that he could have won. "I had one chance and I chose the wrong side," he said, in reference to a look down the inside of Vettel into Turn 1 on lap 35 of the 57.
It was the first real chance Raikkonen had within the DRS zone and Vettel was able to fend him off.
"After that my tyres started to go away and I didn't get close enough again," the Finn said.
They made their final pit stops at the same time four laps later, on lap 39, each going onto a new set of Pirelli prime tyres for the last stint. With Romain Grosjean a secure third at the time in the second Lotus, you did wonder why they the team didn't try bringing Raikkonen in a lap earlier to get the jump on Red Bull.
The race a week earlier in China probably had a bearing on that, with Raikkonen running out of tyres in the closing stages. But if Kimi's rubber had gone off disastrously again, they still had Grosjean riding shotgun, so why not chance it?
Raikkonen's other regret was that despite a great start which saw him up four places to seventh at the end of the first lap, he made a mistake that allowed Massa by on lap 3, costing him 2.5s to Vettel by the time he scrambled back past the Ferrari on lap 6.
But we're nit-picking here. It was a fine effort from the Enstone team to score its first double podium since Fernando Alonso and Giancarlo Fisichella at Suzuka back in 2006.
"It was a great performance," team principal Eric Boullier smiled. "There was frustration for us in the first three races but here we had no glitches. We took a gamble on strategy but it worked. I'm very happy to have both drivers on the podium and just 4s apart at the end. We have said that there is podium potential but you still have to deliver it, and we have.
"It seems that hotter temperatures are better for us and it's never easy when you have changed both drivers. Our drivers have not been in F1 for the past two seasons and needed to get up to speed."
It was another race of surprises, difficult to read, with tyre management again a critical factor. The temperatures were hotter but not by as much as might have been expected. Track temperature hovered sround the 32-33C mark whereas we've frequently seen 10C more than that.
Mark Webber did not manage to make his Red Bull use the rubber as effectively as Vettel, who was much happier with the RB8's balance - with a configuration much closer to that of the car raced by the Webber in China.
For the fourth consecutive race the Australian finished fourth. But it wasn't a close fourth. He has some head scratching to do as he took the flag fully 38s behind Vettel and almost half a minute shy of Grosjean.
Shanghai winner Nico Rosberg made a mistake in the last corner on his lone run in the final session of qualifying and paid a heavy price - what might have been pole became fifth on the grid, which translated into ninth after a poor first lap. From there, any chance of repeating his China success was over.
Rosberg fought hard and engaged in some staunch defence against Lewis Hamilton and Fernando Alonso, both incidents investigated by race stewards but deemed not to be worthy of further action.
Rosberg caught and passed Paul Di Resta's Force India with just five laps to go to take fifth place. The Scot was alone in making a two-stop strategy work, only just managing to fend off Alonso's Ferrari. Sixth place equaled Di Resta's best F1 finish in Singapore last year. It was fitting to see the team emerge with strong points after its trials and tribulations since the team's mechanics were caught in a skirmish between police and Bahraini protestors on Wednesday.
Behind Alonso, Lewis Hamilton salvaged fourth place for McLaren after team mate Jenson Button retired with a couple of laps to go. The Melbourne winner had been closing in on Rosberg and Di Resta before he suddenly suffered a left rear puncture, followed by a broken exhaust and a differential issue that saw him classified 18th and out of the points.
Hamilton himself had his race ruined by two slow pit stops as McLaren suffered more cross-threading issues on the left rear wheel. The issues cost Hamilton almost 15s across his first and second stops.
Hamilton pulled off some excellent overtaking moves, including one to depose Alonso. "Today was just one of those days," he grimaced, as he contemplated being knocked down to second in the championship table, four points behind Vettel and one clear of Webber.
Felipe Massa produced his most feisty display of 2012 to finish ninth, while Michael Schumacher recovered from his qualifying and changed gearbox debacles to go from 22nd on the grid to claim the final point.
The seven times champion was left frustrated by the necessary tyre management, however, which he believes is impacting negatively on the ability to race hard.
You can argue until the cows come home about the rights and wrongs of F1's presence in Bahrain but the positive news is that the fourth round of the championship went off without interruption or undue incident.
Red Bull and Vettel are back at the head of both championships as the teams now concentrate on bringing updates to their cars for the Mugello test at the beginning of May, ahead of the first European round of the series at Barcelona on May 13.