JULY 19, 2002
A new long-term deal for Villeneuve?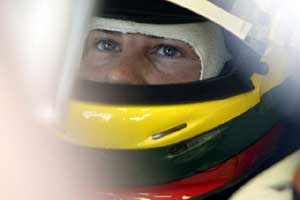 © The Cahier Archive
JACQUES VILLENEUVE and David Richards of British American Racing are discussing the possibility of the Canadian staying with the team for at least another two years. Villeneuve has a contract for next season but Richards says that he would prefer to see a longer term deal so that the team can have a strong foundation around a driver. Villeneuve has been at BAR since the start.
Villeneuve's current contract will see him with the team next year. Richards is known to be unhappy about the salary involved given Jacques performance this year but his hands are tied in that the contract was agreed before he took over the team. However he has made the point that money spent on Jacques is not money that could be used on research and development. The logical extension of this argument is that the best thing to do would be to renegotiate a deal which makes a compromise which would allow the team to invest but still pay Jacques a decent salary over a long period.
Other stories for JULY 19, 2002