Spanish GP 1972
Spanish GP, 1972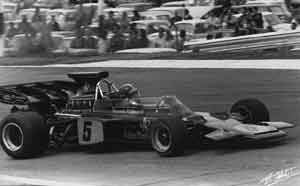 There was a full two month gap between the South African and Spanish GPs and in that time there were no fewer than three non-championship races although Tyrrell and Ferrari missed all of them. The Race of Champions at Brands Hatch (a mixed F1/F5000 event) was won by Team Lotus's Emerson Fittipaldi. Two weeks later Carlos Reutemann won the Brazilian GP at Interlagos for Brabham after Fittipaldi retired. The International Trophy at Silverstone was another F1/F5000 affair which was won by Fittipaldi. The message was that Team Lotus was back on track after wasting its effort in 1971 with the gas turbine car. The entry was much as expected although Brabham was running Wilson Fittipaldi instead of Carlos Reutemann, as the Argentine having broken his ankle after a mechanical failure on his Rondel Racing Formula 2 Brabham at Thruxton launched the car into a roll. It was the first time in World Championship history that two brothers had raced together.

In qualifying Jacky Ickx was fastest for Ferrari, sharing the front row with Denny Hulme (McLaren) and Emerson Fittipaldi. Jackie Stewart (Tyrrell) was on the second row with Mario Andretti (Ferrari) while the third row consisted of Chris Amon (Matra), Jean-Pierre Beltoise (BRM) and Clay Regazzoni (Ferrari)

It was dull and overcast on race day and Hulme went into the lead ahead of Stewart and fast-starting Regazzoni. Then came Ickx and Fittipaldi. After only a handful of laps Hulme began to have gearbox trouble and was overtaken by Stewart and then Ickx and Fittipaldi (who had both passed Regazzoni) and by Regazzoni himself. In the excitement to get past Hulme, Ickx stumbled and so Fittipaldi got ahead of him as well and three laps later he was able to pass Stewart to take the lead. It looked easy but in fact Fittipaldi was not having an easy time as there had been a fuel leak in his cockpit before the start and then his onboard fire extinguisher had gone off unexpectedly during the second lap.

Stewart dropped behind Ickx a few laps later an the order stabilized. Fourth-placed Hulme went out on lap 48 with an engine failure, which moved Regazzoni up and then Stewart retired on lap 70 when he made a mistake and spun off into the barriers, leaving Regazzoni to inherit third place behind Fittipaldi and Ickx. Andrea de Adamich did a good job to finish fourth in his Surtees with Revson fifth and Williams's promising new boy Carlos Pace sixth in only his second Grand Prix.