Drivers
Peter Gethin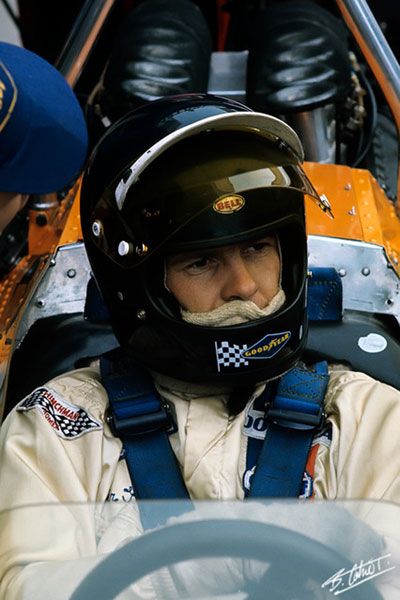 Born in Epson in Surrey in early 1940, Peter Gethin was the son of jockey Ken Gethin. He first came to notice in British Formula 3 in 1968 and in 1969 he moved to British Formula 5000 with Church Farm Racing. He dominated the series, winning the title in his first year and again in 1970.

He also won the 1970 Formula 2 race at Pau and soon afterwards he moved into Formula 1, being drafted in by McLaren after the death of team founder Bruce McLaren. He stayed with the team in 1971 but in the mid-season he was approached by BRM which needed to replace Pedro Rodriguez, who had been killed in a sports car race at the Norisring. In his second race for BRM he won the Italian Grand Prix at Monza when he forced his BRM P160 into the lead at the last corner, winning the race by one-hundredth of a second at an average speed of 151.634mph. Not only was it the smallest margin of victory recorded up to then in Formula 1 history, but was also the fastest ever average speed. A month later he won the Victory Race at Brands Hatch.

The 1972 season was not an easy one for the team and at the end of the year he left BRM. In 1973 he went back to Formula 5000, winning the Race of Champions and thus becoming the only Formula 5000 driver ever to beat the F1 cars when the two series combined. He made a one-off return to F1 in 1973 at the Canadian GP when BRM decided to drop Clay Regazzoni and he was back in F1 again in 1974 when Graham Hill took him on for the British GP after Guy Edwards broke his wrist.

He remained in Formula 5000 in 1976 and then moved into management, looking after the career of rising Italian star Beppe Gabbiani. In 1984 he was appointed team manager of the Toleman F1 team and then went back to Formula 3000 and set up Peter Gethin Racing in 1986. In recent years he has run a driving school at Goodwood although in 2003 he was linked to a bid to buy Brands Hatch.