British GP 1961
British GP, 1961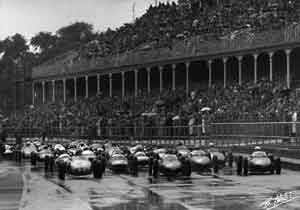 With just a fortnight between the French and British Grands Prix the field at Aintree was not very different from that which had been seen at Reims, although Rob Walker ran a four-wheel-drive Ferguson for Jack Fairman, although this was also driven by Stirling Moss during practice. There were four Ferraris again, with the unbeaten Giancarlo Baghetti joining the works trio.

Qualifying saw Phil Hill, Ritchie Ginther, Jo Bonnier (Porsche) and Wolfgang Von Trips all set identical lap times, while Moss was alongside Von Trips on the second row in his Walker Lotus 18.

The race began in heavy rain with Hill, Von Trips and Ginther getting ahead at the start, chased by Moss and Bonnier. Von Trips took the lead after seven laps, passing Hill. Moss moved to third when Ginther ran wide at one point and then managed to get past Hill for second. He chased Von Trips but was never able to pass him. When the rain stopped Moss began to drop back and would retire with brake problems. This allowed the Ferraris to finish 1-2-3 with Von Trips beating Hill and Ginther. Jack Brabham, Bonnier and Roy Salvadori (Reg Parnell Cooper) completed the top six. The unbeaten Baghetti crashed out early in the race.

Moss took over Fairman's Ferguson after he had retired but was eventually called into the pits and disqualified for having received a push-start.