Dutch GP 1961
Dutch GP, 1961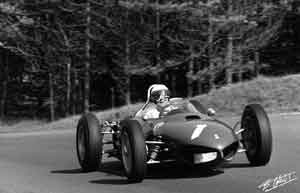 There was just a week between Monaco and the Dutch Grand Prix. The injured Innes Ireland was replaced at Team Lotus by Trevor Taylor but otherwise the field was much as it had been at Monaco with local hero Carel Godin de Beaufort getting a drive in one of the Porsches, entered by his Ecurie Maarsbergen. Ferrari monopolized the front row of the grid with Phil Hill on pole from Wolfgang Von Trips and Ritchie Ginther, while Stirling Moss's Walker Lotus and Graham Hill's BRM shared the second row.

At the start Von Trips took the lead with G Hill and P Hill behind him. Graham Hill soon began to fall back, dropping quickly behind Phil Hill and Jim Clark, who had stormed through the field from the fourth row to run fourth at the end of the first lap. Clark proceeded to battle for second place with the Ferrari and they exchanged places several times before Hill finally asserted himself. Further back G Hill battled with Moss and Ginther, but it was the Ferrari driver who emerged ahead for most of the race. On the last lap, however, Ginther went wide when his throttle stuck open and Moss was able to grab fourth.

The 1960 Dutch Grand Prix was not very interesting but nonetheless has a remarkable place in F1 history. Every starter finished the race and no-one went into the pits. Such reliability has never been achieved since.