Argentine GP 1956
Argentine GP, 1956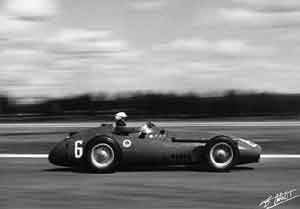 With the withdrawal of Mercedes-Benz from Grand Prix racing at the end of the 1955 season, World Champion Juan-Manuel Fangio joined Ferrari where he joined Eugenio Castellotti, Luigi Musso and Peter Collins. having acquired the old Lancia D50 chassis the Ferrari team was very competitive again after a difficult year in 1955. Mike Hawthorn has departed Ferrari again to join British Racing Motors alongside Tony Brooks.

The previous autumn Brooks had won the non-championship Syracuse Grand Prix for Connaught, a sign that after years of Italian and German domination, the British racing industry was finally beginning to flourish again but as the new BRMs were not ready in January Hawthorn used a BRM-entered Maserati in Argentina.

Stirling Moss went from Mercedes-Benz to Maserati where he team up with Froilan Gonzalez, Jean Behra and Carlos Menditeguy.

The Lancia-Ferraris were dominant in qualifying with Fangio, Castellotti and Musso alongside one another on the front row of the grid, joined by Behra. Gonzalez, Menditeguy and Moss were on row two while Hawthorn, Collins, Olivier Gendebien and Chico Landi (in a Maserati) were on the third row.

Moss's hopes of success were not helped when his car was pushed over his own foot before the start of the race. Musso took the lead at the start but then Gonzalez moved ahead although he was soon overtaken by Menditeguy. Moss moved up to second despite his foot while Castellotti also managed to get ahead of Gonzalez and Musso. Fangio made little impression because of mechanical problems which forced him to retire on lap 23. two laps later Gonzalez was out as well while Musso was ordered to the Ferrari pit to hand over his car to Fangio. In the laps that followed Menditeguy, Moss and Castellotto all ran into mechanical trouble and Fangio (in Musso's car) was able to close in Moss's Maserati which was trailing oil. At two-thirds distance Fangio took the lead. Moss went out and although Fangio had a quick spin he was able to win the race by nearly half a minute with Behra second and Hawthorn third.

The event ended with controversy when Maserati protested the result, arguing that Fangio had received a push-start after his spin. The protest and a later appeal were dismissed.