DECEMBER 1, 2010
Williams confirms Pastor Maldonado for 2011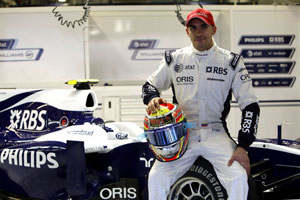 Williams F1 has confirmed today that GP2 champion Pastor Maldonado will drive for the british team next season alongside Rubens Barrichello.
Maldonado has been expected to sign for the team, and tested for the team in Abu Dhabi last month during the rookie tests.
In an announcement, Maldonado said, "I feel very privileged that Williams has selected me as one of their race drivers. It is a great way to end what has already been an amazing year for me. I tested with the team in Abu Dhabi, but can't wait to start working with everyone properly to be in the best possible shape going into next year. I will be doing my best over the winter to prepare myself, and I know the team will be working hard to ensure a successful season. 2011 will be the first time in nearly thirty years that a Venezuelan has driven a Formula One car so I will be looking to get some good results in return for the support my country has given me to help get me to this position today."
Frank Williams said, "Pastor first caught my eye in 2007 when he drove a masterful race at Monaco. Since then, he has regularly reminded us of his unquestionable talent with some skilful wins, particularly during this year's GP2 championship, taking an unsurpassed record of six successive victories. Of course, we already know Pastor from the time he spent with the team at the Abu Dhabi test, but we are very much looking forward to developing his talent over the winter and a fruitful season with him next year."
Maldonado brings significant sponsorship with him to the team, and with Williams losing contracts with RBS, Philips and Air Asia the added funds will greatly help the team's financial position.
Williams previously announced that Rubens Barrichello would remain with the team - and with Nico Hulkenberg unable to make an agreement with the team, this move has been expected. Valtteri Bottas will remain as test and reserve driver.
Other stories for DECEMBER 1, 2010