MAY 13, 2012
Williams celebration cut short by garage fire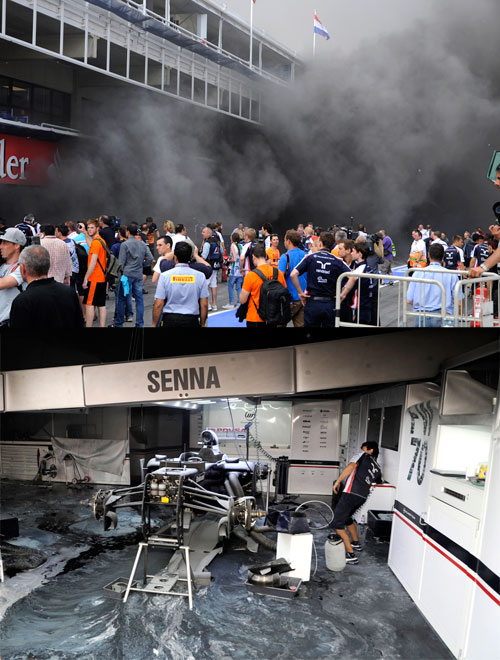 © WRI2.net
After winning their first Grand Prix in eight seasons, Williams celebrations were interrupted by a garage fire that injured several crew members.
Ninety minutes after the end of the race, while Sir Frank Williams was thanking the team for the good job done, an explosion, possibly caused by fuel spilage from a fuel rig, engulfed the garage in flames and smoke.
The fire was fought by members of the Williams, Caterham, Toro Rosso and Force India teams until local firemen arrived. It is understood that 31 F1 personnel have been treated at the medical center, while 7 people have been taken to a local hospital for treatment and observation.
Williams F1 issued the following statement:
"After todays Spanish Grand Prix a fire occurred in the teams garage which originated from the fuel area."
"Four team personnel were injured in the incident and subsequently taken to the medical centre. Three are now receiving treatment at local hospitals for their injuries, while the fourth has been released. The team will monitor their condition and ensure they receive the best possible care."
"The team, the fire services and the police are working together to determine the root cause of the fire and an update statement will be released in due course."
"The Williams F1 Team would like to thank all of the teams and the FIA for their support in todays incident."
Caterham issued this statement:
"Caterham F1 Team was involved in a fire that started in the Williams F1 Team's garage after the end of the Spanish Grand Prix."
"All the team's employees have been accounted for and four people have been taken to the circuit medical centre for examination; one with a minor hand injury and three with respiratory issues."
"A further statement will be issued when more details about the incident are confirmed."
<p><script src="http://connect.facebook.net/en_US/all.js#xfbml=1"></script><fb:like href="http://www.grandprix.com/ns/ns24116.html" layout="box_count"></fb:like></p> <iframe width="728" height="370" src="http://www.youtube.com/embed/H9QLET_u1DA?rel=0" frameborder="0" allowfullscreen></iframe>
Other stories for MAY 13, 2012