FEBRUARY 4, 2008
Who is where in the F1 pecking order in 2008?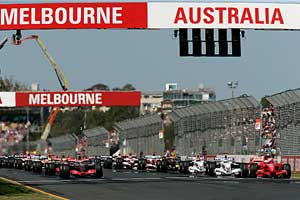 © The Cahier Archive
The Formula 1 teams were testing again over the weekend in Barcelona and although times are still an unreliable guide - the two Toro Rossos were fastest on Saturday - the Formula 1 teams are now beginning to get a clearer idea of who is where in terms of overall speed, as the engineers in the different team have had a chance to digest the data that was created at the tests to date.
What is emerging from this is that everyone agrees that while some teams can set good times with low fuel loads, there is no-one close to the pace of Ferrari when the cars are running with normal fuel loads. We hear that the advantage currently enjoyed by the Italian team is in the region of 0.4sec, which is a big gap in Formula 1 terms. This may change as teams bring on new developments in the weeks before Melbourne, but Ferrari may also have some new parts waiting in the wings.
The McLaren team seems to be in a solid position in second place but from what we are hearing BMW is no longer confident that it will be third with the new F1.08 proving to be rather more difficult to drive than its predecessor.
The new Renault seems to be at around the same pace as the new Williams but what is not clear at the moment is whether this is ahead or behind the BMWs and it is not yet clear where Red Bull, Toyota and Honda fit into the picture.
It may be a while before there are any further indications of relative performance as Ferrari did not take part in the Barcelona test and the team's major rivals are not going to Bahrain.
Other stories for FEBRUARY 4, 2008