OCTOBER 27, 2010
Webber - sinner or sinned against?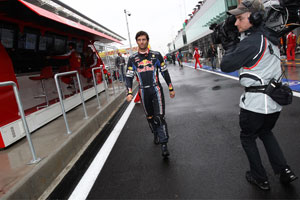 © WRI2, All Rights Reserved: www.wri2.net
The demise of Mark Webber's championship lead and the Aussie's crash in the Korean Grand Prix has sparked controversial opinions.
Webber crashed out in the early stages of the Yeongam race when he lost his Red Bull on the Turn 12 kerb, spun across the road into the wall and then came back across the track, taking out Nico Rosberg.
"I don't understand why Webber didn't hit the brakes," Rosberg tweeted in the aftermath of the incident. "It was crazy to roll back across the track like that."
Nico's observation was shared by Austrian Gerhard Berger, who suggested to Austrian TV that Webber was trying to take out one of his championship rivals. Lewis Hamilton had been running behind Fernando Alonso's third-placed Ferrari but had just been passed by Rosberg.
"He could have hit the brakes and stopped the car," Berger said. "He took out Rosberg but it was the wrong one. I think in his mind he would have preferred Alonso or Hamilton." Asked to clarify whether he thought Webber's move was deliberate, the former Toro Rosso co-owner said: "Yes, I think that's very clear. He goes off and he knows it's over. In this moment you're frustrated and a thousand thoughts go through your head. It's very obvious -- you can see that his wheels are not locked up. Perhaps he had a brake problem but I don't think so."
Meanwhile, Giancarlo Minardi, founder of the eponymous team for which Webber made his F1 debut and finished fifth at Melbourne in 2002, believes that Red Bull's strategy versus Ferrari's concentration on Alonso is costing his former driver a proper crack at the drivers' championship, especially in view of the teams reaching the part of the season in which components are stretched to the limit, as evidence by Vettel's engine failure.
"What happened should bring Red Bull to reflect, because with a team strategy Webber would now still be leading the championship, or wouldn't have this much of a deficit," Minardi told Italian website 422race.com.
"Theoretically, Ferrari should be the favourite in Brazil and Red Bull in Abu Dhabi. But failures or misfortunes can always happen. At the beginning they occurred to Ferrari, then to [Lewis] Hamilton and last Sunday to Red Bull. It's a turning wheel and in such a long championship in the end everybody pays their own bill. All the components - engines, gearboxes, etc, etc - are stressed to their limit and in the last two races we will see who worked better. That's why I find Red Bull's strategy crazy. Now they are forced to recover with both drivers."
Singing Webber's praises, Minardi opined: "He has always been very fast driver in all conditions. In recent years he has worked hard to shed excess pounds without compromising muscle mass. He's a complete driver and without any doubt, one of the top four in the world. I think he's been underestimated by everyone.
"Before now he has run in teams without the budgets needed to fight in the top positions. Then the ugly cycling incident at the end of 2008, which occurred while he was preparing for the new season, affected all of 2009 and left him in the shadows of his new team-mate. This year though, fully recovered, he is putting Vettel in serious difficulty. I think you need to earn the drivers' title although to make that final leap you need complete support. That's precisely why I'm not in agreement with the strategy of Red Bull, leaving its two drivers free to fight. At Suzuka, Webber lost as seven points over Alonso."
And, he may have added, possibly dropped another potential 25 in Korea feeling the need to chase Vettel in treacherous conditions...
Other stories for OCTOBER 27, 2010