OCTOBER 28, 2010
Vettel's not so subtle message...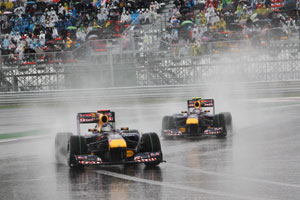 © WRI2, All Rights Reserved: www.wri2.net
Just in case Red Bull's management is thinking of loading its efforts behind Mark Webber in the final two races, Sebastian Vettel has underlined the fact that his departure from last Sunday's Korean GP through engine failure was not, unlike his team mate's, self-inflicted.
Vettel, who must score in both remaining rounds and preferably win if he is to stand any chance of taking the title, said: "I'm the last person to give up. With Mark's crash it was hard for us as a team, but when I look at myself I know the reason for the failure was not my fault, nothing to do with my performance or speed.
"At the time there was no sign of the engine defect. I suddenly lost a row of cylinders and could count down to the moment when the engine would break. It would have been the last race for that engine anyway. We still have engines with little mileage so at least I'll be fine for the remaining races. We all saw in Korea how quickly things can change. The race for the title is not over until the chequered flag in Abu Dhabi."
Got that, everyone?
Other stories for OCTOBER 28, 2010