NOVEMBER 4, 2009
Toyota pulls the plug on F1 team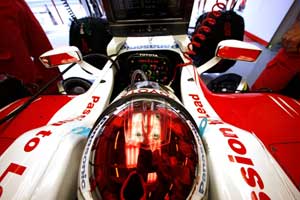 © The Cahier Archive
Toyota has decided to withdraw from Formula 1 immediately, and will announce its plans this morning.
The Toyota adventure in F1 has been a pretty poor affair, without a victory despite huge amounts of spending. The initial development of the team seemed to be promising, and the decision to hire Mike Gascoyne at the end of 2003 was widely seen as acceptance that Toyota had realized that a different attitude was necessary.
Unfortunately, the enforced retirement of Ove Andersson in 2004 (according to Toyota regulations) meant that the team quickly lost its way under the new management. Andersson stayed on as a consultant but was so frustrated that in the end he quit completely and retired to South Africa, where he was killed in a road accident in June last year.
The key point at which many in F1 lost faith in the project was when Gascoyne was ousted in March 2006 following a fundamental difference of opinion with the top management of the team about the way the team should develop. The split was indicative of the clash of cultures between the corporate world and the motor racing fraternity. Gascoyne was the epitome of an aggressive get-up-and-go engineer who was not frightened to speak his mind in corporate circles. His arrival at the team made a significant difference and his departure was seen in F1 circles as a victory of corporate thinking.
That move sent out all the wrong signals in F1 and meant that the team had real troubles recruiting top engineers as it was clear that Gascoyne was rejected for arguing too much for what he felt was necessary. The impression being that the team was being run from Japan by people who did not fully understand what they were doing with the European management simply doing what they were told.
Other stories for NOVEMBER 4, 2009