APRIL 21, 2012
Todt defends Bahrain GP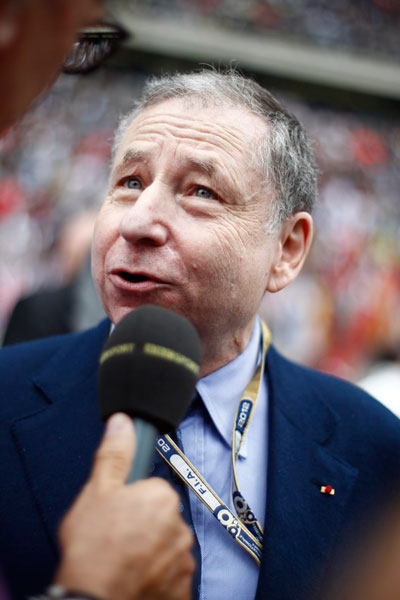 © Active Pictures
BY TONY DODGINS
FIA president Jean Todt has defended the governing body's decision to run the Bahrain GP against a backdrop of civil unrest in the country.
Speaking to BBC TV presenter Jake Humphrey, Todt denied that the race was one of F1's biggest ever gambles.
"I would not put it like that," he said. "It's true to say there has been a lot of information about Bahrain -- comments, aggravation -- but we have to take rational decisions and step forward relating to proper facts relating to information we have. For us the situation is quite clear and we are not looking at any reason why not to run the race."
Todt denied that Wednesday's petrol bomb incident involving Force India was actually a valid reason to reconsider.
"I spoke with Bob Fernley (Force India's deputy team principal) and it was not an attack that was guided to them. I can understand there can be some emotion, but there can be emotion in a stadium when you have a soccer match when there are problems. It can happen all over the world.
"I had a long discussion with Peter Sauber yesterday and this morning, and he said to me, 'You know, I feel definitely as safe here as I feel in any other grand prix in the world and specifically in Europe.' "
Todt claimed that in a poll of Bahraini people - half Bahraini and half of foreign extraction -- 77% were happy about the grand prix, 10% were against it and 13% were ambivalent.
Asked about reports that a protestor had been killed in clashes with police on Friday evening, Todt said that his information was that there had been three injuries among 4000 protestors and added: "We know protests can have a negative and there can be consequences, but I am not sure the protests would not have happened if the grand prix did not happen."
One of the most controversial aspects of the weekend is the Bahrainis creating the 'UniF1ed' promotional poster for a race that the governing body has repeatedly stated has nothing to do with politics....
"There can be a lot of interpretation," Todt said. "I understand that in the UK some opposition parties are against running the grand prix, but if you take the comments of the actual prime minister, he feels things are moving in the right direction."
This was a reference to British Labour leader Ed Miliband who said that the race should not go ahead. His shadow home secretary Yvette Cooper claimed that British drivers should not race.
Mercedes team principal Ross Brawn, however, argued: "I find it very frustrating that politicians in the UK were saying that we should
withdraw once we got here. Why didn't they say anything beforehand? For somebody to try and make Jenson Button or Lewis Hamilton determine the foreign policy of the country, is wrong."
Prime minister David Cameron, in response, said that it was a matter for Formula 1 and that Bahrain is not Syria.
Todt added: "If we had a new vote today of the world council, I am convinced there is no new evidence that would make the decision different. You can always focus on a very limited amount of people and opinion and make headlines out of it, but the reality from what we have seen from all the investigations, is different."
In conclusion, however, Todt admitted he could not rule out the possibility of a protest during the race.
"How can I say it cannot happen?" he conceded. "It has happened in Europe, in the UK, in Germany. I hope nothing will happen, but I cannot foresee what will be tomorrow."
Other stories for APRIL 21, 2012