DECEMBER 23, 2009
Schumacher signs for Mercedes GP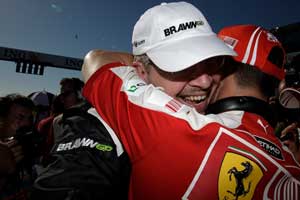 © The Cahier Archive
Michael Schumacher has been confirmed as Nico Rosberg's team-mate at Mercedes GP in 2010.
"Mercedes GP Petronas represents a new challenge for me both in a sporting and a personal context," said the German. "It is a new chapter in my racing career and I am really looking forward to working with my old friend Ross Brawn and my companions from my days with the Mercedes Junior Programme. I am convinced that together we will be involved in the fight for the Formula 1 World Championship next year and I am already looking forward to getting back onto the race track. For me, this partnership closes the circle. Mercedes supported me for so many years when I began my Formula 1 career and now I can hopefully give something back to the brand with the star.¹
At just short of 41 years of age Michael is very old for a Formula 1 driver and there were some questions about his fitness following head and neck injuries after a motorcycle racing accident in February which kept him out of the cockpit when Ferrari was looking for a replacement for Felipe Massa last summer.
It will be interesting to see how he does.
Other stories for DECEMBER 23, 2009