APRIL 26, 2012
Schumacher: a short memory?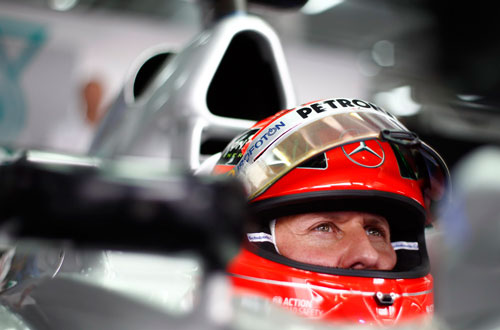 © Active Pictures
Michael Schumacher has been accused of having a selective memory following his gripes over Pirelli's F1 control rubber post-Bahrain.
Schumacher, doubtless frustrated at finishing 10th in Bahrain after the Mercedes win in China, said: "I had to drive at a pace to manage the tyres. We should question whether that should be the case. It's unsatisfying and not what F1 should be. If 80-90% complain then maybe Pirelli should think about it. I don't think it's right that only one or two teams handle it and the rest struggles so much."
It has become evident over the first four races of the new F1 season that getting the tyres into their 'sweet spot' - the right operating temperature and range - has become the Holy Grail for teams. And there has been no set pattern as to the conditions in which they have achieved it. McLaren, for instance, looking ahead to hotter track temperatures after China, struggled in Bahrain, team principal Martin Whitmarsh admitting that "we were killing our rear tyres quickly."
Schumacher, who started 22nd in Bahrain after qualifying problems and a gearbox penalty, would have hoped to be able to use a healthy stock of new rubber to good affect in the race. It will not have helped his mood to see Kimi Raikkonen, who also started outside the top 10, do just that and challenge Vettel hard for the win.
Raikkonen took advantage of a well set-up Lotus with strong top speed and aggressive early laps, to work himself into a position that caused "well clenched buttocks" on the pit wall, according to Red Bull chief Christian Horner.
Pirelli's Paul Hembery responded to Schumacher's comments by saying: "The competition has never been closer and part of that is down to the fact that everyone has the same opportunities and challenges with the tyres and it is down to them to make the best of it. In the end, the best engineers and drivers will always succeed."
That, of course, has not always been the case. In the midst of a tyre war with Michelin, Schumacher ad the benefit of bespoke Bridgestone tyres designed around his specific driving style in an era that saw him win five of his seven world titles.
Gary Anderson, in his technical analysis of Bahrain for the BBC adds that in his Jordan days during the early 2000s, Ferrari and Schumacher "had tyres that we weren't even allowed to look at."
Other stories for APRIL 26, 2012