APRIL 1, 2011
Response to Melbourne will be a true measure, says Brawn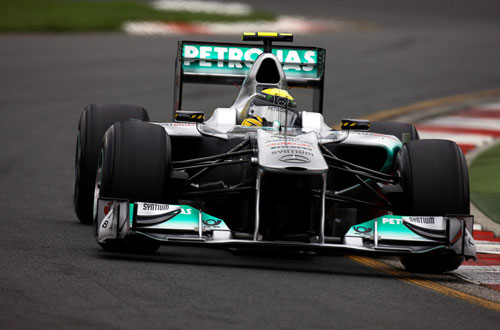 © The Cahier Archive
Mercedes team principal Ross Brawn says that a measure of his team will be the manner in which is reacts to a disappointing season-opening race in Melbourne.
"We endured a difficult weekend at the first race despite having reasonable expectations after completing a successful testing programme," Brawn said. "We suffered a number of problems which resulted in a far from optimum car for qualifying and the race, and then were unlucky to suffer a disappointing double retirement for Michael and Nico.
"Our priority has been to regroup back at our factories in Brackley and Brixworth, to review the weekend in detail, and to establish the best way to achieve the full potential of the car from Malaysia onwards. How we respond to the disappointment of Melbourne and the challenges we faced, will be a true measure of our team."
Sepang is the home race of Mercedes title partner Petronas, which increases pressure for a strong showing. Last year, Rosberg qualified second and scored the team's first podium.
"Sepang is my favorite circuit on the F1 calendar," Rosberg says. "It's fast and challenging with a nice layout and a real variation of corners which make it an exciting track to drive. I have a good feeling coming back here this year. We had a tough weekend in Australia but the team has worked hard and we are confident that the car will be running reliably in Malaysia.
"Melbourne is a unique circuit and we know that we will have a much better understanding of our level of performance after the next races. I think we can surprise people next Sunday. We know that the car is fast from the last test in Barcelona."
Other stories for APRIL 1, 2011