JANUARY 31, 2010
Renault F1 team debuts R30 chassis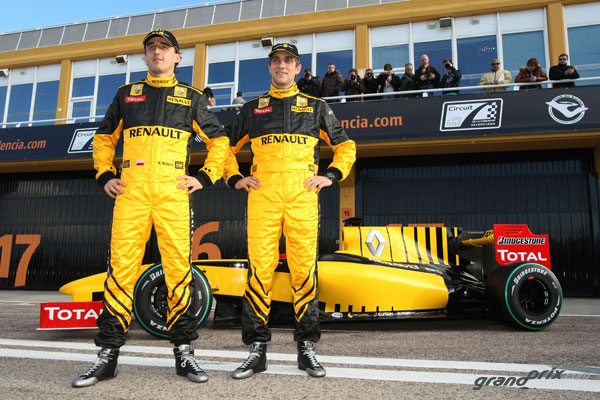 © Grandprix.com, Photo: Andrew Hone
Hot on the heels of the Sauber launch at Valencia, Renault F1 displayed their new R30 chassis in preparation for the start tomorrow of the first official test session of the year.
The team's lead driver Robert Kubica was joined by the newly signed driver for the second seat Vitaly Petrov, along with team principal Eric Boullier. Also at the announcement were third driver Ho-Ping Tung, and reserve driver Jerome d'Ambrosio - both of which are contracted by driver management firm Gravity Sports (which is owned by Renault F1's new investor Genii Capital).
The team unveiled a new yellow and black livery, which is remenisant of the colour scheme the manufacterer used in the late 1970s and 1980s.
Eric Boullier said, "We've been working flat-out during the winter to ensure that we begin the new season in the best shape possible. The R30 should be a competitive, strong and reliable car, and we've opted for an aggressive development strategy throughout the season. Now we're here ready for the first test and we're all excited to see if the car performs as we think it will."
Robert Kubica said, "The team has been working on the new car for a long time and it's clear that we are moving in the right direction. Now we need to maximise the winter tests to keep up this momentum and continue improving the car. Our priority is to make the car easy to drive because the new rules favour cars that are not too sensitive - we need a car that behaves consistently in a wide range of conditions."
Vitaly Petrov said, "The new car looks stunning and the colours remind everybody of Renault's great history in the sport. I can't wait to drive the car for the first time and start working with the team."
Other stories for JANUARY 31, 2010