FEBRUARY 11, 2011
Renault chief thinks Heidfeld is the logical choice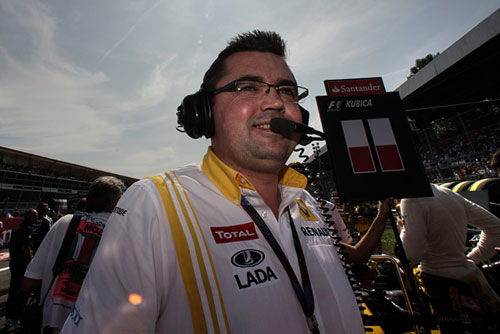 © The Cahier Archive
Nick Heidfeld has been given a boost by Renault team principal Eric Boullier - even before he makes his first appearance in the Renault R31 in testing at Jerez this week.
Boullier has publicly stated that the veteran German should be, "the logical choice to drive for us" but that he needs to convince the team in the day and a half that he will be testing in Jerez de la Frontera, or "we'll have to look at other options".
Time is running out before the season begins, so Renault needs to quickly make a decision so that they can push forward to develop the car. Boullier says, "we need to have a decision, so we can focus on developing the car in the final pre-season test. Ideally we'll sort this problem out by Sunday, here in Jerez. Otherwise, other drivers will get the chance to show us what they can do."
Boullier explained, "together with my engineers we defined the profile of the driver we needed for this difficult moment. If we'd been left without Robert in the middle of the season, when the development of the car was already done, we could put a young driver in the car to assess him and help him mature and grow with the team. Unfortunately this accident happened just after the first test in Valencia, a test that was essentially a shakedown, so the requirements are different: we need a quick driver, capable of driving the team in the right direction regarding the development of the car, capable of driving the team hard in the races, capable of scoring points and capable of winning races. So, as you can see, the driver we idealized in these difficult circumstances has to tick a lot of boxes and Nick Heidfeld seems to me the one most likely to achieve that."
Regarding Heidfeld's chances, Boullier went on to say, "I don't want to sound arrogant but we are, in effect, assessing Heidfeld during the last two days of testing here and if he fulfills our expectations then we'll offer him a deal."
"If he doesn't, we'll look at other possibilities but, frankly, the need for an experienced driver limits out choice to three names. Vitantonio Liuzzi is definitively a possibility and I've just had a conversation with Pedro de la Rosa, that is the third driver we'll consider."
Boullier also explained that Bruno Senna isn't in serious consideration for the seat at this point, but the team is running the young Brazilian on Saturday to gain experience, "basically we want him to get some mileage, so that in the unlikely case we need him to drive in a Grand Prix he's got, at least, some idea of what the car is like. I was caught out once, I won't be caught out again."
Other stories for FEBRUARY 11, 2011